Special Announcement:
Thanks to everyone who attended yesterday's packed-house 10th Annual Utah Snow and Avalanche Workshop! Tickets were sold out by Friday and nearly a thousand people packed the house to learn, exchange ideas, and be a part of the Greatest Snow and Avalanche Community on Earth. Special thanks to Snowbird and the rest of our sponsors. (pc: M. Murphy)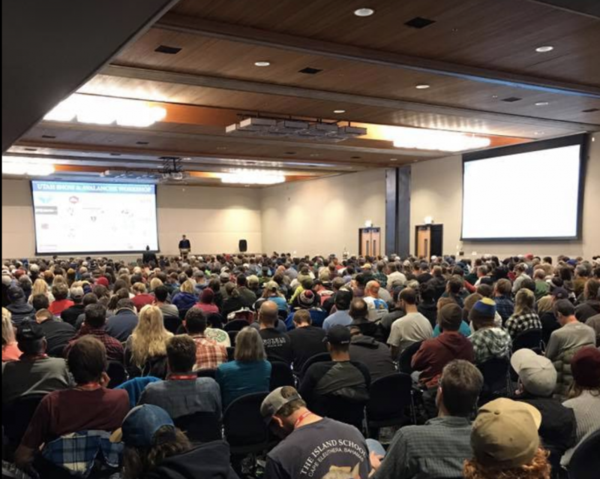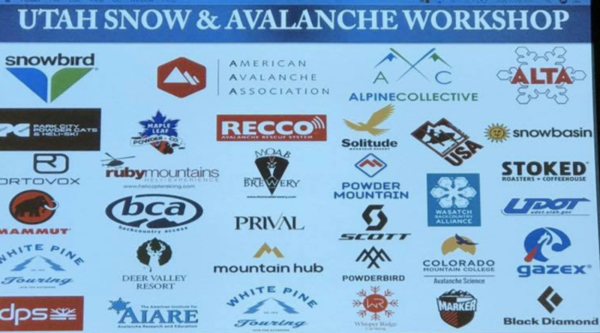 The winter and avalanche season is nearly upon us. Take a moment and go through your gear and make sure everything is well-functioning and ready to go. Put some new batteries in your avalanche transceiver and knock the rust off by doing a beacon search in the backyard.
Our Education and Calendar pages are already chock-full of classes and events - find something that suits you, like our Companion Rescue workshops, a free Know Before You Go awareness talk, or sign up for our of our Backcountry 101 classes.
Current Conditions:
The mountains will be painted a little more white this morning after last night's storm. On a west to southwest storm track, the central Wasatch picked up 3-5", the Ogden area mountains 8-12", and the Provo area mountains 5-6". As far as I could tell, the Ben Lomond and Monte Cristo zones of the Ogden mountains received the lion's share of precipitation, with these stations registering up to 1.5" of SWE (snow-water-equivalent). We may be able to wring a couple more inches out of the atmosphere through Monday night/early Tuesday. Temps are in the mid to upper 20s; winds are westerly blowing 15mph with gusts to 30.
Prior to Friday, the central and southern Wasatch looked like the photos below, with generally 6-12" of snow lingering (rotting, actually) from the 20" storm on September 23/24 (and a couple weak October storms) and really confined to the upper elevation northerly aspects. Rotting is jargon for weakening of the snow, as it often transforms into sugary, cohesionless grains we refer to as "facets" and sometimes "depth hoar". It can spell trouble for early season avalanche conditions and we have been watching (and taking photos of) the snow grains and mapping their distribution over the past couple of weeks. The Ogden area mountains held little to no snow on the ground.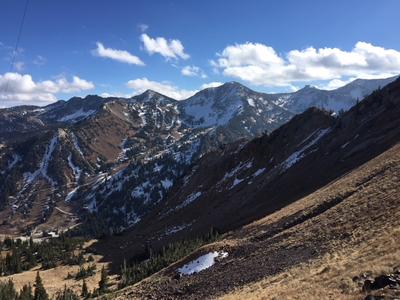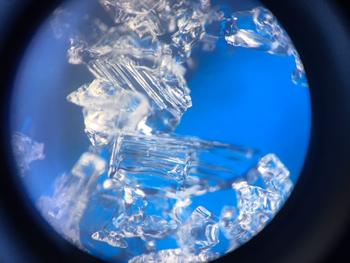 On Friday, however, light rain fell to the higher elevations, dampening the early season snow and allowing the snowpack to build crusts and generally gain some strength overnight and into Saturday. I noted this on Friday afternoon, and UAC observers Todd Glew and Cody Hughes noted this along the Cottonwood ridgeline as well. In other words, the snowpack now isn't terrible, it's just more complicated. We'll have more reports and updates in the coming days.
By now, I guess I should never be surprised at what folks will do in the mountains with such minimal coverage, but suffice to say, if there's enough snow to ride, there's enough snow to avalanche. There may be just enough new snow to allow for shallow sluffs and isolated wind drifts in the highest, north facing terrain.
Mountain Weather:
Unsettled weather with occasional light snowfall will persist through Tuesday as we may look to pick up a couple more inches of snow. Winds will be 15-20mph from the west southwest. Temperatures plummet to the mid-teens at 10,000' by Tuesday before quickly rebounding into the 30s later Wednesday. The next storm potentially arrives late week, but the weather models show little agreement with this feature. Stay tuned.
Bottom Line:
By now, I guess I should never be surprised at what folks will do in the mountains with such minimal coverage, but suffice to say, if there's enough snow to ride, there's enough snow to avalanche. There may be just enough new snow to allow for shallow sluffs and isolated wind drifts in the highest, northerly facing terrain.
Remember that each year we have early season close calls, accidents, and sometimes avalanche fatalities. Montana has tragically suffered the first avalanche fatality of the season on October 7th. Remember that traumatic injury is also more prevalent in the early season owing to the thin snow coverage - tread lightly. Lastly, once we get enough snow, one must treat the unopened ski area terrain as the backcountry as the avalanche teams have yet to do control work. Please check in with them if you have any questions or about their uphill travel policies.
General Announcements:
Remember your information can save lives. If you see anything we should know about, please help us out by submitting snow and avalanche conditions. You can also call us at 801-524-5304, email by clicking HERE, or include #utavy in your tweet or Instagram.
To get help in an emergency (to request a rescue) in the Wasatch, call 911. Be prepared to give your GPS coordinates or the run name. Dispatchers have a copy of the Wasatch Backcountry Ski map.
Backcountry Emergencies. It outlines your step-by-step method in the event of a winter backcountry incident.
If you trigger an avalanche in the backcountry, but no one is hurt and you do not need assistance, please notify the nearest ski area dispatch to avoid a needless response by rescue teams. Thanks.
EMAIL ADVISORY If you would like to get the daily advisory by email you will need to subscribe here.
DAWN PATROL Hotline updated daily by 5-530am - 888-999-4019 option 8.
TWITTER Updates for your mobile phone - DETAILS
UDOT canyon closures: LINK TO UDOT, or on Twitter, follow @UDOTavy, @CanyonAlerts or @AltaCentral
Utah Avalanche Center mobile app - Get your advisory on your iPhone along with great navigation and rescue tools.
Powderbird Helicopter Skiing - Blog/itinerary for the day
Lost or Found something in the backcountry? - http://nolofo.com/
To those skinning uphill at resorts: it is critical to know the resort policy on uphill travel. You can see the uphill travel policy for each resort here.
Benefit the Utah Avalanche Center when you shop from Backcountry.com or REI: Click this link for Backcountry.com or this link to REI, shop, and they will donate a percent of your purchase price to the UAC. Both offer free shipping (with some conditions) so this costs you nothing!
Benefit the Utah Avalanche Center when you buy or sell on ebay - set the Utah Avalanche Center as a favorite non-profit in your ebay account here and click on ebay gives when you buy or sell. You can choose to have your seller fees donated to the UAC, which doesn't cost you a penny.
This information does not apply to developed ski areas or highways where avalanche control is normally done. This advisory is from the U.S.D.A. Forest Service, which is solely responsible for its content. This advisory describes general avalanche conditions and local variations always occur.
Rose: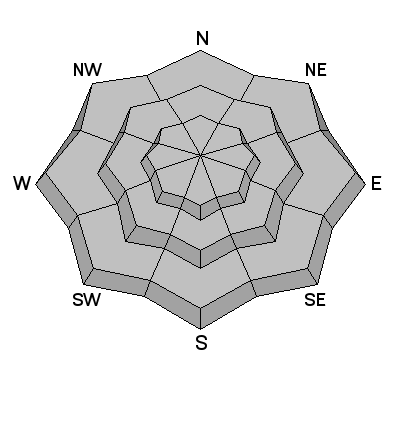 Rose: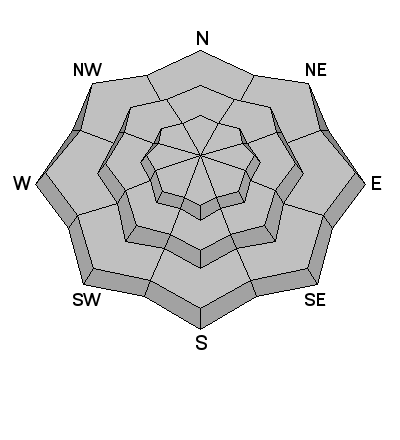 Rose: