Description:
Natural activity closely follows storms and wind events with human triggered slides - depending on snowpack layering - persisting hours up to days - even sometimes weeks - following the event. With another day after the storm, these slides on the early November faceted grains or weak early season snow will be less sensitive but no less deadly. Yesterday's collapsing and cracking and the recent avalanches are KEY INDICATORS of unstable and dangerous avalanche conditions in specific terrain. I would continue to avoid steep northwest through northeast facing terrain above 9500'.
Special Announcement:
Support the UAC when you shop. Between now and Jan 11th, Whole Foods Market at Trolley Square, Sugarhouse & Cottonwood Heights will donate a dime per bag to Utah Avalanche Center when you shop there and donate your bag credit at check out.
See below or YouTube link to see a review of what's going on with our snowpack and our current avalanche concerns.  YouTube link here.
Unopened ski area terrain has a backcountry snowpack, as avalanche mitigation work has not been done. Each resort has different uphill travel policies - please abide by signage and closures and check in with the local ski patrol.
Snowbird and Alta are closed to uphill traffic.  While the Albion summer road is open, Alta may be doing mitigation in the Supreme area and East Castle to protect lift construction.  
Current Conditions:
Skies are partly cloudy this morning and mountain temperatures have rapidly warmed into the mid to upper 20s - a far cry from yesterday morning's bone-chilling temps in the single digits. Those single digits remain, however, in the basins and at the trailheads as cold air pools in these drainages and valley bottoms.  Southwest winds are 10-15mph with gusts to 20mph, except along the south end of the Park City ridgeline where they hum at 20-25mph.  As the storm came in dense and thick with plenty of graupel and followed with right-side-up powder (trending high to low density), skiing and riding conditions are excellent on north facing, low angle grassy slopes above 9000'. South and westerly slopes became damp in the afternoon.
Friday's storm totals are below:
Ogden area mountains:  12 – 18" of new snow, landing on mostly bare ground. 
Salt Lake area mountains:  9 to 17" of new snow, with up to 2 feet of snow on the ground in the upper elevations of the Cottonwoods
Park City area mountains:  8 – 14" of new snow, with 10 to 15" on the ground at upper elevations
Provo area mountains:  2 to 5" of new snow, above about 6,000' with likely up to a foot on the ground in the high elevations
Recent Activity:
Those that ventured out and about into upper Little Cottonwood Canyon came home with something to talk about.  Highlights included two natural avalanches during Friday's storm and one explosive-triggered monster in Collins Gulch of upper Little Cottonwood Canyon.  
East Castle in upper LCC - 10,800' northwest to northeast facing, 1-2' deep and a half-mile-wide.  This naturally released toward the end of the storm Friday afternoon or early evening, failing at the new snow/old snow interface on weak faceted grains from the snow that fell the first week of November.  Mark Staples and Trent Meisenheimer describe the avalanche in the video below (or YouTube).  It should be noted that even though the avalanche ran Friday, they still noted many loud collapses while even accessing the avalanche for their investigation yesterday.  
Catherine's area in upper LCC - 10,000' northwest facing, 12-16" deep and 100' wide, also running naturally during the storm on Friday.   Greg Gagne describes what he found here.  
Mt Baldy in upper LCC - 10,800 north-northeast facing, 1-2' deep and 1000' wide, triggered yesterday with explosives and failing at the new snow/old snow interface on weak faceted grains from the snow that fell the first week of November.  Photos here. 
Many, if not most, parties reported cracking and collapsing in the same, if not older buried weaknesses within the snowpack.  One party headed to Catherine's Pass immediately turned tail and headed back to the parking lot.  "We don't know anything about avalanches, but we do know that collapsing is not a good sign".  Indeed.
Mountain Weather:
Back to the bad news. The weather forecast for storms looks a bit bleak until perhaps the last days of the month. For today, we'll have sunny skies, mountain temps reaching into the low to mid-30s, and west to southwest winds less than 15mph. A weak storm brushes by to the north for Mon/Tues dropping temps a few degrees and bumping wind speeds to 20-30mph, but we'll see little precipitation for our trouble.
Bottom Line:
The danger remains CONSIDERABLE for human triggered slides 1-2' deep and hundreds of feet wide. The good news is that this danger is generally confined to steep northwest to north to northeast facing slopes above - conservatively - 9000'. The bad news is that it may be possible to trigger these avalanches remotely or from below. The best news is that the best and safest riding conditions exist on low angle north facing grassy slopes not connected to steeper terrain. The steep sunny aspects may be damp and unstable with direct sun and warming.
General Announcements:
Remember your information can save lives. If you see anything we should know about, please help us out by submitting snow and avalanche conditions. You can also call us at 801-524-5304, email by clicking HERE, or include #utavy in your tweet or Instagram.
To get help in an emergency (to request a rescue) in the Wasatch, call 911. Be prepared to give your GPS coordinates or the run name. Dispatchers have a copy of the Wasatch Backcountry Ski map.
Backcountry Emergencies. It outlines your step-by-step method in the event of a winter backcountry incident.
If you trigger an avalanche in the backcountry, but no one is hurt and you do not need assistance, please notify the nearest ski area dispatch to avoid a needless response by rescue teams. Thanks.
EMAIL ADVISORY If you would like to get the daily advisory by email you will need to subscribe here.
DAWN PATROL Hotline updated daily by 5-530am - 888-999-4019 option 8.
TWITTER Updates for your mobile phone - DETAILS
UDOT canyon closures: LINK TO UDOT, or on Twitter, follow @UDOTavy, @CanyonAlerts or @AltaCentral
Utah Avalanche Center mobile app - Get your advisory on your iPhone along with great navigation and rescue tools.
Powderbird Helicopter Skiing - Blog/itinerary for the day
Lost or Found something in the backcountry? - http://nolofo.com/
To those skinning uphill at resorts: it is critical to know the resort policy on uphill travel. You can see the uphill travel policy for each resort here.
Benefit the Utah Avalanche Center when you shop from Backcountry.com or REI: Click this link for Backcountry.com or this link to REI, shop, and they will donate a percent of your purchase price to the UAC. Both offer free shipping (with some conditions) so this costs you nothing!
Benefit the Utah Avalanche Center when you buy or sell on ebay - set the Utah Avalanche Center as a favorite non-profit in your ebay account here and click on ebay gives when you buy or sell. You can choose to have your seller fees donated to the UAC, which doesn't cost you a penny.
This information does not apply to developed ski areas or highways where avalanche control is normally done. This advisory is from the U.S.D.A. Forest Service, which is solely responsible for its content. This advisory describes general avalanche conditions and local variations always occur.
Date:
Sunday, November 19, 2017
Rose: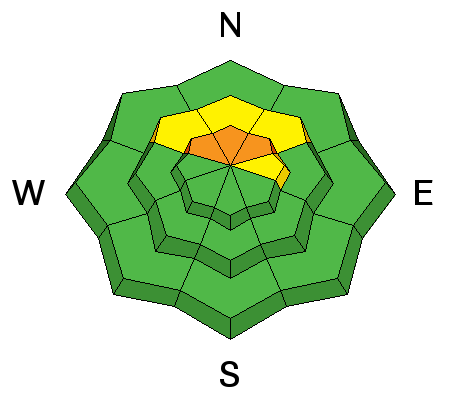 Rose: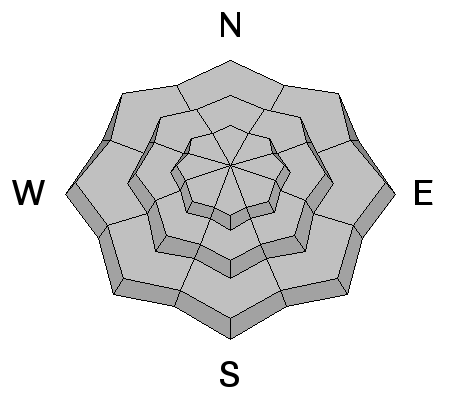 Rose: