Description:
Persistent slab and deep slab avalanches tend to come roaring back to life during and just after significant loading events....and then become increasingly pockety and stubborn over the following days. We're on the back-end of the curve (see below), but it's when we see many accidents and close calls. They may still be triggered more readily today by a heavy loading event or significant trigger (cornice drop, "catching air with a hard landing", other new snow avalanche from above) and may still be triggered by human weight, particularly along the periphery of the upper Cottonwoods. Best to avoid thinner, rocky terrain that has seen significant wind loading on the steep west to north to southeast facing slopes above about 9000'.
Remember terrain is your friend: enjoy the powder on low angle slopes with no overhead hazard.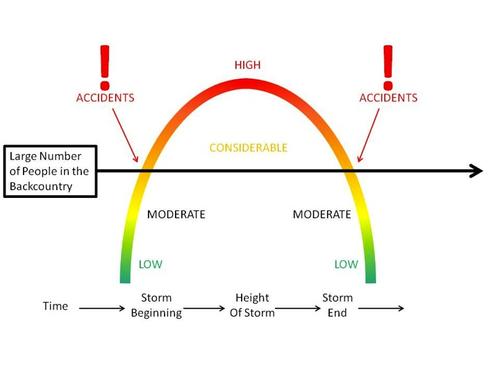 Special Announcement:
We have discount lift tickets for Alta, Snowbird, Brighton, Solitude, Snowbasin,and Beaver Mountain. Details and order information here. All proceeds from these go towards paying for avalanche forecasting and education!
This Thursday and Saturday (March 8th & 10th) Be prepared if going snowshoeing - Snowshoe Backcountry 101 Introduction to Avalanches at Brighton Resort. Two snowshoers were killed in an avalanche in Washington just over a week ago. Get educated or recommend this class to a friend.
We need your help with social media -
INSTAGRAM: If you take a photo or video of an avalanche, clue us in by adding #utavy
TWITTER: active notifications of real-time info - DETAILS -and then help us by Re-tweeting critical info.
FACEBOOK: see interesting links, photos, videos, and learn about events. Not just for the 50+ crowd and cat videos.
SNAPCHAT: we have no idea what this is.
Current Conditions:
Skies are mostly clear with mountain temperatures in the mid to upper teens.  Winds are westerly and light.  Snow depths are 70-90" in the upper reaches of the Cottonwoods and 50-70" along the PC ridgeline.  We needed this last storm.  Southerly aspects will be crusted over this morning but the protected northerly aspects still ski and ride like butter.  Let's look at the numbers for Brighton, Snowbird, and Thaynes (Park City mtns) below - we're still quite off the average for precipitation (try not to look at last year). (Green-this year, Red-last year, Blue/purple-"average")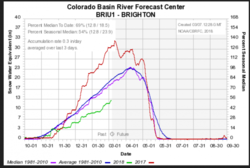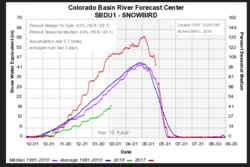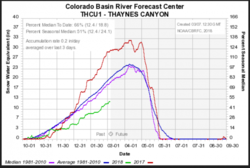 But it's all a matter of perspective - do you believe the numbers or do you believe what you see below? (PC Chad Brackelsberg)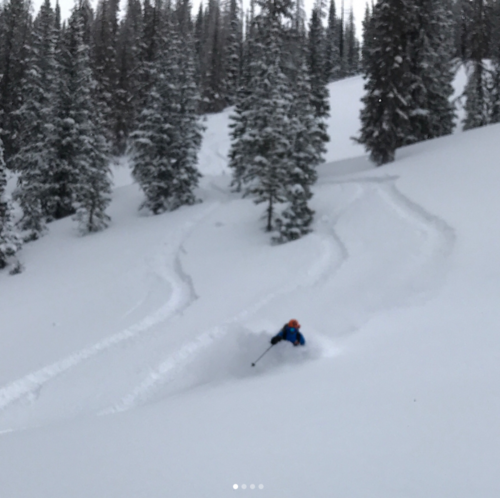 Recent Activity:
Three significant avalanches from the backcountry yesterday.
Olympus Memorial Couloir #1 - NE 8900' - while ascending near the top of the couloir, a party triggered a 3' deep and 15' wide pocket where the second person was caught and carried 300'.  No injuries or lost gear reported.
Major Evans Gulch in upper American Fork Canyon- NE 9800' - a snowmobiler triggered and subsequently caught and carried in this large 2-3' deep and 500' wide avalanche.  Airbag deployed.  Snowmobiler ended up on top in part due to airbag.  That he bought last week. Amazingly, Trent Meisenheimer happened to be in the area and - can you believe this - filmed the entire thing (see below). 
Terrace Run South in upper Mill Canyon - SE 9700' skier remote from 100 feet away.  2+' deep 200' wide. 
YouTube video here
Mountain Weather:
We'll have high clouds today that should thicken and lower by the afternoon.  Greenhousing is possible.  Mountain temperatures along the ridglines will rise to the upper 20s as mid-elevation temps will rise to the upper 30s to low 40s.  Winds will be light from the west.  A weak system pushes through Friday/Sat.  The next storm looks to be a week out. 
Bottom Line:
The danger is along the high end of MODERATE for human triggered slides 2-4' deep and a couple hundred feet wide on west to north to southeast facing slopes above about 9000'. They are, however, more pronounced outside of the upper Cottonwoods or in thinner areas that have avalanched earlier this year. TAKE NOTE: Three were triggered yesterday unintentionally with two very lucky individuals caught and carried with no injuries. These avalanches may be otherwise unsurvivable.
The danger for wet avalanches on the steep sunny aspects may rise to CONSIDERABLE with direct sun and daytime heating. Roof-a-lanches are likely and have resulted in fatalities in years past.
Description:
The temperatures and just enough wind kept the sunny aspects in check yesterday.  A melt-freeze crust will exist this morning on these aspects and this will slow down the wet activity, but not thwart it by any means.  So...early direct sun, temps warming to the 40s at the mid-elevation, and perhaps some later afternoon greenhousing will activate the wet avalache activity.  Natural and human triggered wet avalanches will be likely and may subsequently trigger still-stabilizing storm slabs on the way downslope.  I expect there may be decent debris piles beneath the steepest, most sustained avalanche slopes.   Don't overstay your welcome - the window will be quite narrow between breakable crust and wet/unstable.  Choose the cold snow instead. 
KEY POINT:  ROOF-A-LANCHES will be a significant concern.  Watch for many houses to shed their winter coats with the sun and daytime heating.  Fatalities have occurred due to this very real hazard. 
General Announcements:
CLICK HERE FOR MORE GENERAL INFO AND FAQ
The UAC has new support programs with Outdoor Research and Darn Tough. Support the UAC through your daily shopping. When you shop at Smith's, or online at Outdoor Research, REI, Backcountry.com, Darn Tough, Patagonia, NRS, Amazon, eBay  a portion of your purchase will be donated to the FUAC. See our Donate Page for more details on how you can support the UAC when you shop.
Benefit the Utah Avalanche Center when you buy or sell on eBay - set the Utah Avalanche Center as a favorite non-profit in your eBay account here and click on eBay gives when you buy or sell. You can choose to have your seller fees donated to the UAC, which doesn't cost you a penny
This information does not apply to developed ski areas or highways where avalanche control is normally done. This advisory is from the U.S.D.A. Forest Service, which is solely responsible for its content. This advisory describes general avalanche conditions and local variations always occur.
Rose: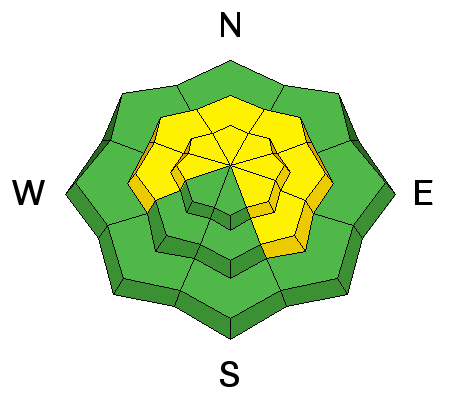 Rose: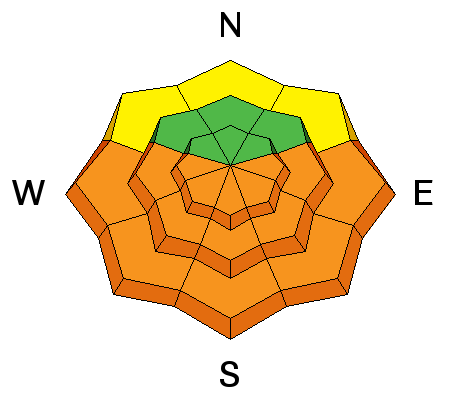 Rose: