Description:
The snowpack on upper elevation (9000' and above) shaded aspects is made up of many different layers and in fact is somewhat confusing to me. It's complicated to know which layer will fail and when. It's a layer cake of crusts, graupel, and facets. The simple fact - the snowpack is all just one big weak layer!
Once we start stacking up storm snow on top of this mess I am sure we will have the perfect recipe for slab avalanches. The avalanche danger will be on the rise this morning and into the evening. Avoid being on and under steep (35 degree) northerly facing slopes today as avalanches could be trigger from a distance.
THE GOOD NEWS: Many of the southerly facing slopes and lower elevations (9000' and below) are free of faceted snow and will be a great choice for riding and turning once the storm snow accumulates. It's easy to pull out the shovel and quickly check whats underneath you. Evelyn has a great observation found here describing this. 
Photo: Drew Hartesty from the Provo area mountains. Observation found here.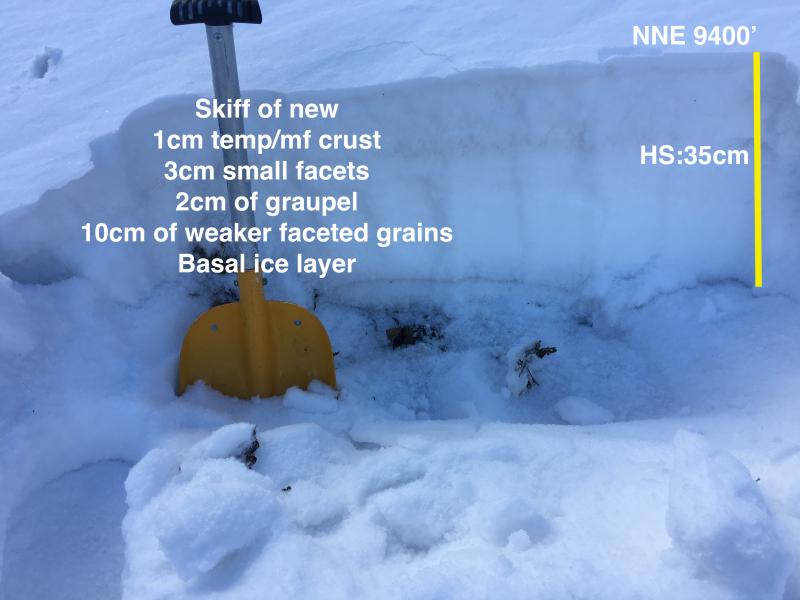 Current Conditions:
The southery winds this morning are having there way with the upper elevation anemometers with speeds in the 30 to 40 mph range - gusting into the 70's as a strong cold front approaches northern Utah. Temperatures are balmy with even the highest elevations just barly below freezing.
Powder snow??? ha, drive north. Our current snowpack and riding condidtions are pretty grim. Even the highest elevation northerly facing slopes support a crust that make turning and riding a challenge. Lower elevations, you'll be in the bushes and rocks. The good news - we have a much needed storm coming. However, keep in mind that our snowpack is shallow and made up of weak and faceted (sugary) snow. AVALANCHE DANGER MAY RISE SIGNIFICANTLY LATER TODAY AND MONDAY.
The weather story from mid-mountain 7500' at Sundance - thanks to UDOT Provo canyon weather history:
September 23/24th storm - 5"/0.69" with monthly water totals of 2.73"
October water numbers - 1.66" H20
November - 4.5" snow/0.50" water
Recent Activity:
There has been no reported avalanche activity in the Provo mountains.
Mountain Weather:
Winds will remain strong and gusty out of the southwest this morning and early afternoon with speeds averaging 30-40 mph gusting into the 50's at the highest elevations as a highly anticipated storm approaches northern Utah. The airmass will continue to become more unstable throughout the afternoon and evening hours which will result in good orographics and bring a period of potentially steadier heavy snowfall into Monday morning. Snow levels will drop from 7,000 feet this morning to the valley by this evening as cold air is ushers in. By Monday afternoon we could see 3" to 7" inches of snow with (0.2" - 0.45" H20).
Bottom Line:
AVALANCHE DANGER MAY RISE SIGNIFICANTLY LATER TODAY AND MONDAY AS A STRONG COLD FRONT APPROACHES NORTHERN UTAH. This morning we have a LOW avalanche danger quickly rising to MODERATE by later this afternoon. HUMAN TRIGGERED AVALANCHES ARE POSSIBLE. The greatest danger will be on upper elevation northerly facing slopes. Avoid being on or underneath slopes that are steeper than 35 degrees in slope steepness.
General Announcements:
Remember your information can save lives. If you see anything we should know about, please help us out by submitting snow and avalanche conditions. You can also call us at 801-524-5304, email by clicking HERE, or include #utavy in your tweet or Instagram.
To get help in an emergency (to request a rescue) in the Wasatch, call 911. Be prepared to give your GPS coordinates or the run name. Dispatchers have a copy of the Wasatch Backcountry Ski map.
Backcountry Emergencies. It outlines your step-by-step method in the event of a winter backcountry incident.
If you trigger an avalanche in the backcountry, but no one is hurt and you do not need assistance, please notify the nearest ski area dispatch to avoid a needless response by rescue teams. Thanks.
EMAIL ADVISORY If you would like to get the daily advisory by email you subscribe here.
DAWN PATROL Hotline updated daily by 5-530am - 888-999-4019 option 8.
TWITTER Updates for your mobile phone - DETAILS
UDOT canyon closures: LINK TO UDOT, or on Twitter, follow @UDOTavy, @CanyonAlerts or @AltaCentral
Utah Avalanche Center mobile app - Get your advisory on your iPhone along with great navigation and rescue tools.
Powderbird Helicopter Skiing - Blog/itinerary for the day
To those skinning uphill at resorts: it is critical to know the resort policy on uphill travel. You can see the uphill travel policy for  each resort here.
Support the UAC through your daily shopping. When you shop at Smith's, or online at REI, Backcountry.com, Patagonia, NRS, Amazon, eBay by clicking on these links, they donate a portion of your purchase to the FUAC. If you sell on eBay, you can have your See our Donate Page for more details on how you can support the UAC when you shop. 
Benefit the Utah Avalanche Center when you buy or sell on ebay - set the Utah Avalanche Center as a favorite non-profit in your ebay account here and click on ebay gives when you buy or sell. You can choose to have your seller fees donated to the UAC, which doesn't cost you a penny.
This information does not apply to developed ski areas or highways where avalanche control is normally done. This advisory is from the U.S.D.A. Forest Service, which is solely responsible for its content. This advisory describes general avalanche conditions and local variations always occur.
Rose: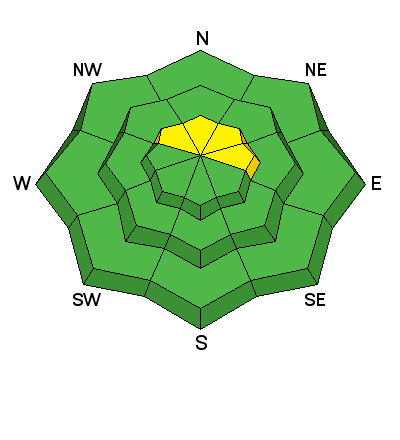 Rose: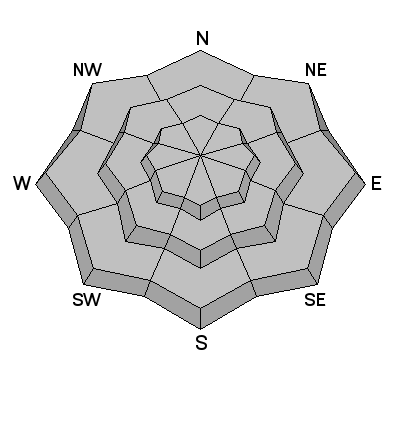 Rose: