Comments:
Decided it was time to go test some steeper N facing terrain, figured the slab should be breaking down by now with clear somewhat cold nights, warm days and a shallow snow-pack. In No Name bowl the slab has done more than just relax and break down a bit, it has transformed in to a completely faceted out snow pack except for a supportable hard crust at the ground interface. The faceting machine has been on full blast and the layered snow-pack of last week has become a pile of loose facets, you could get some long running facet sluffs by initiating them with ski cuts in the steeper terrain, the facets would flow down the slope like a river and gouge down to the crust. Not all slopes are like this, some of the more exposed slopes on the PC Ridgeline still have visible wind slabs and I wouldn't be surprised if you could get them to slide if you tried hard enough. The future doesn't look bright for No Name Bowl, it has a fairly hard bed surface and plenty of weak snow to create avalanches if we ever get another storm.
Photos: facets sluffs initiated with ski cuts and turns.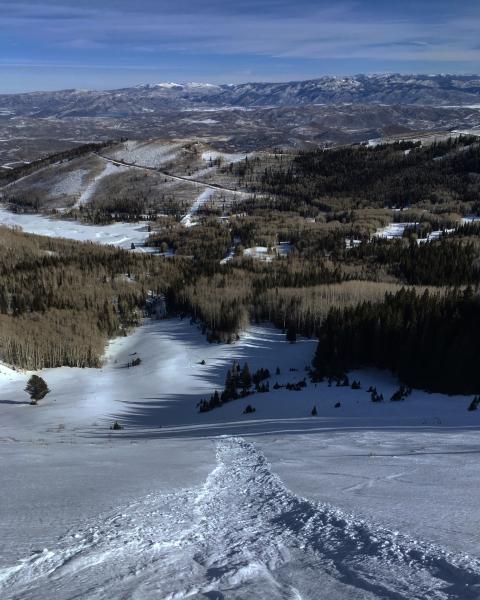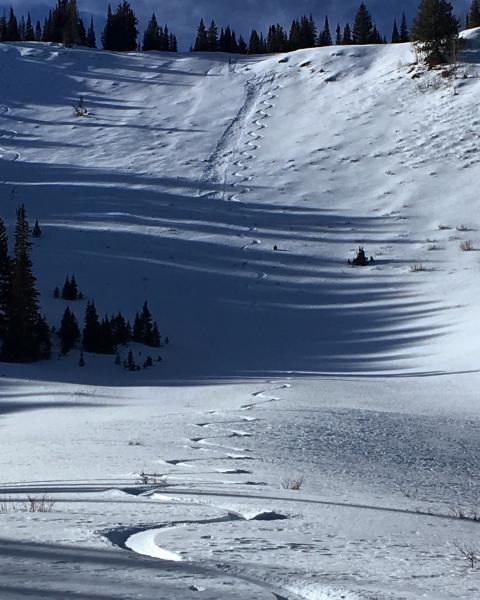 Low seems right for most terrain, Moderate in steep winded terrain on the N end of the compass.
Snow Profile Coordinates: