Location Name or Route:
Fairview & Huntington Canyons
Comments:
I observed the entire snowpack to be damp below 8800'. I did not look at the snow higher than that, too much of a blizzard. Snow temperature sensors on the KALF in Spring City Canyon at 9400' indicate that the pack was damp up to that elevation also. The sub-surface probe was about 15" up from the ground. (see table below)
Concerns for wet avalanche activity crossed my mind and would've gotten me more excited if I new the temps weren't about to cool off dramatically.
Date_Time surface sub surface air Fahrenheit Fahrenheit Fahrenheit 12/15/2016 09:00 MST 27.32 29.57 39.61 12/15/2016 09:10 MST 28.24 29.57 39.54 12/15/2016 09:20 MST 28.51 29.57 40.33 12/15/2016 09:30 MST 28.53 29.61 40.41 12/15/2016 09:40 MST 29.08 29.61 40.66 12/15/2016 09:50 MST 28.9 29.62 41.32 12/15/2016 10:00 MST 29.7 29.64 41.56 12/15/2016 10:10 MST 29.98 29.64 41.61 12/15/2016 10:20 MST 29.32 29.64 42.22 12/15/2016 10:30 MST 29.64 29.68 42.73 12/15/2016 10:40 MST 29.3 29.68 42.12 12/15/2016 10:50 MST 31.01 29.7 42.22 12/15/2016 11:00 MST 31.39 29.73 43.14 12/15/2016 11:10 MST 31.44 29.77 43.14 12/15/2016 11:20 MST 31.6 29.77 43.21 12/15/2016 11:30 MST 31.44 29.79 43.21 12/15/2016 11:40 MST 31.01 29.8 42.3 12/15/2016 11:50 MST 31.21 29.8 42.17 12/15/2016 12:00 MST 31.71 29.84 42.55 12/15/2016 12:10 MST 31.44 29.84 41.99 12/15/2016 12:20 MST 32.05 29.88 42.22 12/15/2016 12:30 MST 32.11 29.89 42.12 12/15/2016 12:40 MST 31.5 29.93 41.43 12/15/2016 12:50 MST 31.15 29.95 40.89 12/15/2016 13:00 MST 31.21 29.98 40.46 12/15/2016 13:10 MST 31.32 30 40.71 12/15/2016 13:20 MST 31.89 30 40.46 12/15/2016 13:30 MST 31.5 30.06 39.61 12/15/2016 13:40 MST 30.7 30.07 39.61 12/15/2016 13:50 MST 31.15 30.13 39.06 12/15/2016 14:00 MST 31.51 30.15 39.13 12/15/2016 14:10 MST 31.12 30.18 38.7 12/15/2016 14:20 MST 31.21 30.18 37.54 12/15/2016 14:30 MST 30.72 30.22 37.47 12/15/2016 14:40 MST 30.83 30.27 37.42 12/15/2016 14:50 MST 31.33 30.27 37.54 12/15/2016 15:00 MST 30.81 30.29 37.24 12/15/2016 15:10 MST 30.83 30.33 36.7 12/15/2016 15:20 MST 30.99 30.33 35.58 12/15/2016 15:30 MST 31.55 30.36 34.86 12/15/2016 15:40 MST 31.6 30.38 33.76 12/15/2016 15:50 MST 32.02 30.4 33.58 12/15/2016 16:00 MST 31.66 30.43 33.82 12/15/2016 16:10 MST 32.05 30.47 34.61 12/15/2016 16:20 MST 32.29 30.49 34.81 12/15/2016 16:30 MST 31.71 30.51 34.25 12/15/2016 16:40 MST 31.89 30.54 34.43 12/15/2016 16:50 MST 31.91 30.56 34.38 12/15/2016 17:00 MST 31.33 30.58 34.12 12/15/2016 17:10 MST 31.71 30.58 34.25 12/15/2016 17:20 MST 32.52 30.63 34.56 12/15/2016 17:30 MST 32.29 30.63 35.04 12/15/2016 17:40 MST 31.51 30.69 35.28 12/15/2016 17:50 MST 32.02 30.69 35.47 12/15/2016 18:00 MST 31.82 30.7 35.28 12/15/2016 18:10 MST 31.95 30.7 35.58 12/15/2016 18:20 MST 31.89 30.76 35.58 12/15/2016 18:30 MST 31.95 30.76 34.86 12/15/2016 18:40 MST 32.05 30.78 34.56 12/15/2016 18:50 MST 31.32 30.78 33.69 12/15/2016 19:00 MST 31.84 30.81 33.69 12/15/2016 19:10 MST 31.91 30.83 33.87 12/15/2016 19:20 MST 31.91 30.85 34.38 12/15/2016 19:30 MST 31.95 30.85 34.3 12/15/2016 19:40 MST 31.28 30.88 34.48 12/15/2016 19:50 MST 31.1 30.9 34.48 12/15/2016 20:00 MST 31.71 30.92 34.48 12/15/2016 20:10 MST 31.42 30.94 33.46 12/15/2016 20:20 MST 32.18 30.94 33.03 12/15/2016 20:30 MST 31.66 30.96 32.79 12/15/2016 20:40 MST 32.05 30.96 32.92 12/15/2016 20:50 MST 31.95 30.99 33.28 12/15/2016 21:00 MST 31.82 31.01 33.15 12/15/2016 21:10 MST 31.82 31.01 33.1 12/15/2016 21:20 MST 31.55 31.03 32.97 12/15/2016 21:30 MST 31.82 31.03 32.74 12/15/2016 21:40 MST 32.22 31.06 33.1 12/15/2016 21:50 MST 31.55 31.06 33.15 12/15/2016 22:00 MST 31.44 31.06 33.28 12/15/2016 22:10 MST 32 31.1 33.4 12/15/2016 22:20 MST 31.42 31.1 33.1 12/15/2016 22:30 MST 31.82 31.12 32.97 12/15/2016 22:40 MST 31.95 31.14 32.92 12/15/2016 22:50 MST 31.84 31.14 32.67 12/15/2016 23:00 MST 31.73 31.14 32.97 12/15/2016 23:10 MST 32.32 31.15 32.74 12/15/2016 23:20 MST 31.66 31.17 33.28 12/15/2016 23:30 MST 31.73 31.17 33.51 12/15/2016 23:40 MST 31.28 31.21 33.58 12/15/2016 23:50 MST 31.5 31.21 33.03 12/16/2016 00:00 MST 31.42 31.21 32.67 12/16/2016 00:10 MST 31.44 31.23 32.41 12/16/2016 00:20 MST 31.44 31.23 32.18 12/16/2016 00:30 MST 31.12 31.24 31.75 12/16/2016 00:40 MST 31.23 31.23 31.39 12/16/2016 00:50 MST 31.1 31.26 31.14 12/16/2016 01:00 MST 31.51 31.26 30.96 12/16/2016 01:10 MST 31.21 31.26 30.85 12/16/2016 01:20 MST 31.12 31.26 30.85 12/16/2016 01:30 MST 30.88 31.3 30.52 12/16/2016 01:40 MST 30.83 31.32 30.42 12/16/2016 01:50 MST 30.43 31.3 30.52 12/16/2016 02:00 MST 30.76 31.3 30.42 12/16/2016 02:10 MST 31.05 31.3 30.6 12/16/2016 02:20 MST 30.65 31.33 30.52 12/16/2016 02:30 MST 30.6 31.33 30.47 12/16/2016 02:40 MST 30.72 31.33 30.24 12/16/2016 02:50 MST 30.7 31.33 30.34 12/16/2016 03:00 MST 29.93 31.33 29.98 12/16/2016 03:10 MST 30.22 31.37 30.16 12/16/2016 03:20 MST 30.11 31.37 30.16 12/16/2016 03:30 MST 30.31 31.39 30.09 12/16/2016 03:40 MST 30.54 31.39 30.16 12/16/2016 03:50 MST 30.15 31.37 30.42 12/16/2016 04:00 MST 30.42 31.39 30.42 12/16/2016 04:10 MST 30.11 31.39 30.34 12/16/2016 04:20 MST 30.11 31.41 30.09 12/16/2016 04:30 MST 30.2 31.41 30.04 12/16/2016 04:40 MST 29.64 31.41 29.68 12/16/2016 04:50 MST 29.53 31.41 29.62 12/16/2016 05:00 MST 30.38 31.41 29.55 12/16/2016 05:10 MST 30.11 31.41 29.62 12/16/2016 05:20 MST 30.31 31.41 29.68 12/16/2016 05:30 MST 29.91 31.41 29.68 12/16/2016 05:40 MST 29.64 31.44 29.68 12/16/2016 05:50 MST 29.41 31.44 29.73 12/16/2016 06:00 MST 29.53 31.44 29.68 12/16/2016 06:10 MST 29.62 31.44 29.62 12/16/2016 06:20 MST 30.15 31.44 29.73 12/16/2016 06:30 MST 29.98 31.44 29.68 12/16/2016 06:40 MST 29.3 31.44 29.91 12/16/2016 06:50 MST 29.82 31.44 29.91 12/16/2016 07:00 MST 29.43 31.44 29.91 12/16/2016 07:10 MST 29.52 31.48 29.68 12/16/2016 07:20 MST 29.19 31.44 29.55 12/16/2016 07:30 MST 29.43 31.46 29.5 12/16/2016 07:40 MST 29.08 31.48 29.5 12/16/2016 07:50 MST 29.3 31.48 29.5 12/16/2016 08:00 MST 29.21 31.48 29.62 12/16/2016 08:10 MST 29.21 31.48 29.62 12/16/2016 08:20 MST 29.35 31.48 29.55 12/16/2016 08:30 MST 29.14 31.48 29.55 12/16/2016 08:40 MST 29.64 31.48 29.55 12/16/2016 08:50 MST 29.53 31.48 29.73 12/16/2016 09:00 MST 30.04 31.48 29.8 12/16/2016 09:10 MST 29.62 31.48 29.91 12/16/2016 09:20 MST 29.86 31.48 29.8 12/16/2016 09:30 MST 29.82 31.48 30.04 12/16/2016 09:40 MST 30.33 31.48 30.04 12/16/2016 09:50 MST 29.8 31.48 30.24 12/16/2016 10:00 MST 30.22 31.48 30.52 12/16/2016 10:10 MST 30.15 31.48 30.7 12/16/2016 10:20 MST 30.22 31.48 30.52 12/16/2016 10:30 MST 31.28 31.48 30.65 12/16/2016 10:40 MST 30.43 31.51 30.9 12/16/2016 10:50 MST 31.05 31.51 31.14 12/16/2016 11:00 MST 30.99 31.51 31.21 12/16/2016 11:10 MST 31.23 31.51 31.26 12/16/2016 11:20 MST 30.88 31.51 31.14 12/16/2016 11:30 MST 30.54 31.51 31.14 12/16/2016 11:40 MST 30.38 31.51 31.08 12/16/2016 11:50 MST 30.61 31.51 31.14 12/16/2016 12:00 MST 30.76 31.51 30.9 12/16/2016 12:10 MST 30.65 31.51 31.03 12/16/2016 12:20 MST 30.76 31.51 30.96 12/16/2016 12:30 MST 30.02 31.51 30.96 12/16/2016 12:40 MST 31.21 31.51 31.14 12/16/2016 12:50 MST 30.31 31.51 31.21 12/16/2016 13:00 MST 30.61 31.51 31.03 12/16/2016 13:10 MST 30.7 31.51 30.96 12/16/2016 13:20 MST 30.22 31.51 30.78 12/16/2016 13:30 MST 30.31 31.51 30.78 12/16/2016 13:40 MST 30.38 31.51 30.78 12/16/2016 13:50 MST 30.31 31.51 30.52 12/16/2016 14:00 MST 30.04 31.51 30.34 12/16/2016 14:10 MST 31.01 31.51 30.42 12/16/2016 14:20 MST 30.2 31.51 30.42 12/16/2016 14:30 MST 29.91 31.51 30.09 12/16/2016 14:40 MST 25.12 31.51 27.18 12/16/2016 14:50 MST 24.19 31.51 24.19 12/16/2016 15:00 MST 22.78 31.51 23.11 12/16/2016 15:10 MST 22.66 31.51 22.86 12/16/2016 15:20 MST 21.88 31.51 22.55 12/16/2016 15:30 MST 22.05 31.51 22.42 12/16/2016 15:40 MST 21.99 31.51 21.94 12/16/2016 15:50 MST 22.12 31.51 21.7 12/16/2016 16:00 MST 21.15 31.53 21.45 12/16/2016 16:10 MST 21.04 31.55 21.22 12/16/2016 16:20 MST 20.48 31.53 21.27 12/16/2016 16:30 MST 20.62 31.55 20.84 12/16/2016 16:40 MST 20.25 31.53 20.66 12/16/2016 16:50 MST 20.08 31.55 20.61 12/16/2016 17:00 MST 19.81 31.55 20.28 12/16/2016 17:10 MST 19.53 31.55 19.92 12/16/2016 17:20 MST 19.69 31.53 19.87 12/16/2016 17:30 MST 19.24 31.55 19.74 12/16/2016 17:40 MST 19.11 31.55 19.69 12/16/2016 17:50 MST 19.22 31.55 19.69 12/16/2016 18:00 MST 19.63 31.55 19.87 12/16/2016 18:10 MST 18.79 31.55 19.62 12/16/2016 18:20 MST 18.9 31.55 19 12/16/2016 18:30 MST 18.52 31.55 18.64 12/16/2016 18:40 MST 17.65 31.55 18.41 12/16/2016 18:50 MST 17.83 31.55 18.16 12/16/2016 19:00 MST 18.28 31.55 18.03 12/16/2016 19:10 MST 18.55 31.55 17.98 12/16/2016 19:20 MST 18.5 31.55 18.1 12/16/2016 19:30 MST 18.16 31.55 18.21 12/16/2016 19:40 MST 17.6 31.55 17.85 12/16/2016 19:50 MST 17.04 31.57 17.06 12/16/2016 20:00 MST 16.41 31.55 16.83 12/16/2016 20:10 MST 16.52 31.57 16.52 12/16/2016 20:20 MST 16.65 31.57 16.32 12/16/2016 20:30 MST 15.53 31.55 16.09 12/16/2016 20:40 MST 15.62 31.55 15.85 12/16/2016 20:50 MST 15.62 31.55 15.37 12/16/2016 21:00 MST 14.9 31.55 15.04 12/16/2016 21:10 MST 15.01 31.57 15.04 12/16/2016 21:20 MST 14.52 31.55 14.81 12/16/2016 21:30 MST 13.89 31.55 14.38 12/16/2016 21:40 MST 14.5 31.55 14.32 12/16/2016 21:50 MST 14.9 31.55 14.38 12/16/2016 22:00 MST 14.56 31.55 14.2 12/16/2016 22:10 MST 13.55 31.55 13.96 12/16/2016 22:20 MST 14.23 31.55 13.84 12/16/2016 22:30 MST 14.11 31.55 13.77 12/16/2016 22:40 MST 14.18 31.55 13.96 12/16/2016 22:50 MST 14.4 31.55 14.02 12/16/2016 23:00 MST 13.95 31.53 13.89 12/16/2016 23:10 MST 13.32 31.53 12.92 12/16/2016 23:20 MST 12.65 31.55 12.36 12/16/2016 23:30 MST 13.05 31.53 12.49 12/16/2016 23:40 MST 12.09 31.53 12.31 12/16/2016 23:50 MST 12.54 31.53 12.13 12/17/2016 00:00 MST 12.33 31.53 12 12/17/2016 00:10 MST 12.11 31.51 11.95 12/17/2016 00:20 MST 11.86 31.51 11.89 12/17/2016 00:30 MST 12.31 31.51 11.89 12/17/2016 00:40 MST 12.2 31.51 11.82 12/17/2016 00:50 MST 12.15 31.51 11.64 12/17/2016 01:00 MST 11.91 31.51 11.64 12/17/2016 01:10 MST 11.62 31.5 11.28 12/17/2016 01:20 MST 11.8 31.48 11.34 12/17/2016 01:30 MST 10.8 31.5 11.08 12/17/2016 01:40 MST 11.01 31.48 11.16 12/17/2016 01:50 MST 11.48 31.5 11.03 12/17/2016 02:00 MST 10.96 31.48 10.72 12/17/2016 02:10 MST 10.85 31.46 10.42 12/17/2016 02:20 MST 9.68 31.48 10.24 12/17/2016 02:30 MST 10.29 31.46 9.88 12/17/2016 02:40 MST 10.92 31.48 9.7 12/17/2016 02:50 MST 10.51 31.44 9.57 12/17/2016 03:00 MST 8.02 31.44 8.78 12/17/2016 03:10 MST 8.02 31.44 7.56 12/17/2016 03:20 MST 7.88 31.42 7.12 12/17/2016 03:30 MST 7.72 31.44 6.94 12/17/2016 03:40 MST 6.64 31.42 6.51 12/17/2016 03:50 MST 6.62 31.41 5.61 12/17/2016 04:00 MST 6.12 31.41 5.13 12/17/2016 04:10 MST 5.9 31.41 4.82 12/17/2016 04:20 MST 4.84 31.41 4.57 12/17/2016 04:30 MST 4.78 31.41 4.15 12/17/2016 04:40 MST 4.39 31.41 3.72 12/17/2016 04:50 MST 4.39 31.39 3.36 12/17/2016 05:00 MST 3.42 31.39 3.24 12/17/2016 05:10 MST 3.94 31.37 2.98 12/17/2016 05:20 MST 3.7 31.37 2.8 12/17/2016 05:30 MST 2.62 31.39 2.55 12/17/2016 05:40 MST 3.18 31.35 2.26 12/17/2016 05:50 MST 2.86 31.33 2.26 12/17/2016 06:00 MST 1.96 31.33 2.32 12/17/2016 06:10 MST 3.02 31.33 2.32 12/17/2016 06:20 MST 2.8 31.33 2.37 12/17/2016 06:30 MST 2.46 31.33 2.32 12/17/2016 06:40 MST 3.22 31.33 2.14 12/17/2016 06:50 MST 3.33 31.33 2.14 12/17/2016 07:00 MST 2.21 31.32 2.14 12/17/2016 07:10 MST 2.86 31.3 2.01 12/17/2016 07:20 MST 3.25 31.3 2.01 12/17/2016 07:30 MST 2.86 31.3 2.19 12/17/2016 07:40 MST 3.04 31.3 2.19 12/17/2016 07:50 MST 3.22 31.26 2.37 12/17/2016 08:00 MST 3.33 31.26 2.19 12/17/2016 08:10 MST 3.07 31.26 2.01 12/17/2016 08:20 MST 2.86 31.24 2.26 12/17/2016 08:30 MST 2.53 31.26 2.26 12/17/2016 08:40 MST 2.62 31.26 2.01 12/17/2016 08:50 MST 2.52 31.24 1.89 12/17/2016 09:00 MST 2.64 31.24 2.19
Poor photo below of wet sluffs from the Dam Roadcut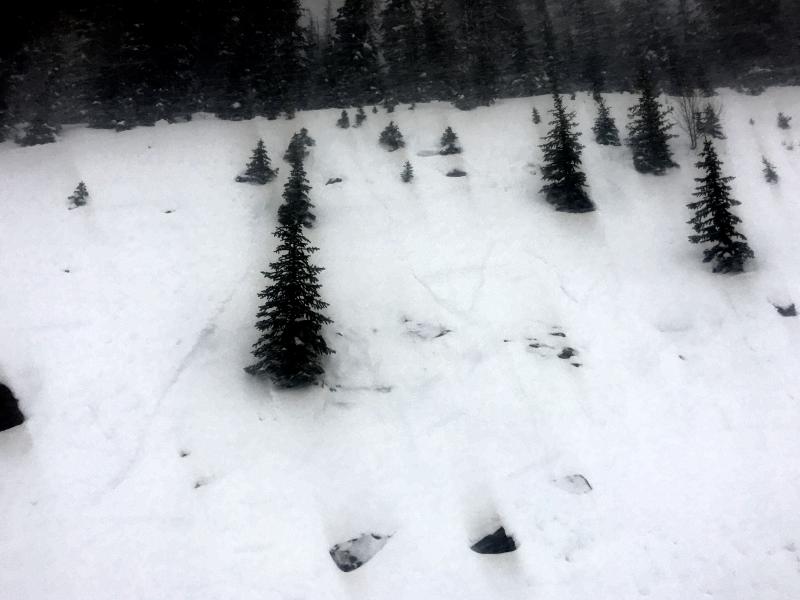 Snow Profile Coordinates: