Observer Name:
Lew Hitchner and Doyle Dow
Trigger: additional info:
Unintentionally Triggered
Weak Layer:
New Snow/Old Snow Interface
Comments:
We arrived into Boulder Basin at about 1:00 PM and saw 2 skiers getting ready to descend the NE face of Lake Peak from the summit. As the first skier did a short traverse (maybe a ski cut) above the face the top layer broke out beneath him, and a slough slid down the entire face. After it ended the first skier descended and stayed within the debris field. The snow in the debris field seemed to be pretty skiable for him, and he didn't release any more snow on his descent. His partner followed soon after. He started in the middle of the debris field, then tried to ski outside of it to skier's right, then crossed completely across the debris field and skied the lower half or 2/3 of his run to skier's left of the debris field on a slope that potentially could have released (but didn't, it was much less steep). I spoke from a distance briefly with the skier who released the slough. He said it was shallow, maybe 6", and he didn't think that it broke on the old snow surface, but broke about an inch or two above the old surface. Maybe there was a grauple layer separating the new from the old snow (my speculation).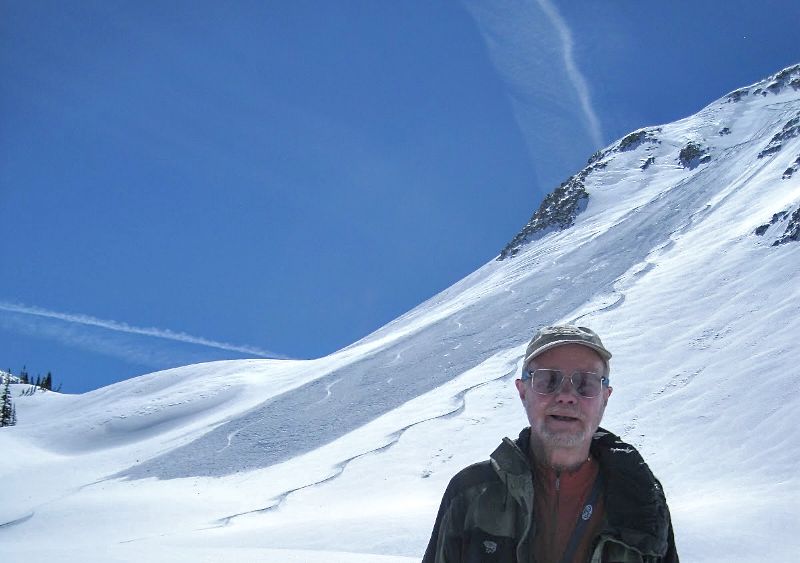 Comments:
Sorry about my face being in the photo my buddy took of the avalanche.