Observer Name:
Ted Scroggin/Craig Gordon
Trigger: additional info:
Unintentionally Triggered
Snow Profile Comments:
Steep, rocky, upper elevation terrain in this region never really developed a thick, solid snowpack this season. In addition, the very cold January temperatures added insult to injury. As a result the overall strength of the pack is super weak and remains suspect. Helping to hold things together is a thin heat crust from the meltdown two weeks ago.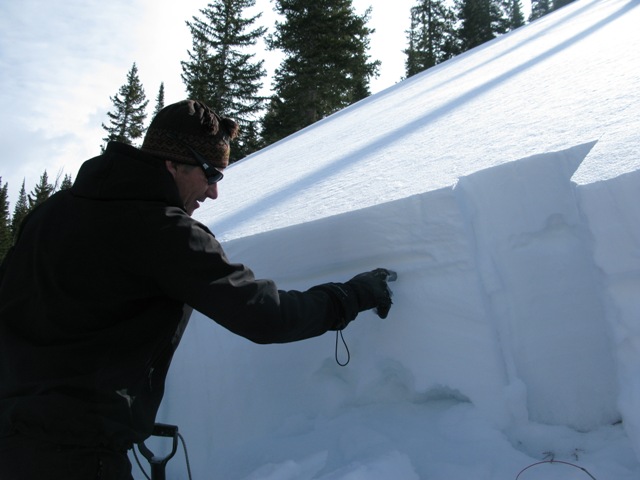 Ted points to a thin heat crust. Above that a four finger slab from last week storm... below is nothin' but shugga.
Comments:
This sled triggered slide happened in the last few days on a steep, rocky north facing slope around 9,800'. A heat crust below the last storm snow may have added to the connectivity of the slide. The slide broke into old weak snow at the ground taking the seasons snowpack with it. Not sure on the timing or if anyone was caught in it. It may have occurred on Sunday or Monday, there is some new snow on the bed surface and the crown edges have started to round. The slide is a bit of an eye opener with the depth and how well connected it is. The deepest part of the crown is 4' and broke at the ground taking the seasons snowpack with it. It is a steep and thin rocky place and this likely was a factor in the slide.