Description:
In general you can count on several types of avalanche conditions in the spring. Whenever we get a storm the avalanche danger will rise, as the new snow might not bond well to the existing hard, slick crust it falls on. As always, recent avalanche activity as well as cracking and collapsing of the snowpack are dead giveaways the snow is unstable. Even if these clues don't present themselves, be sure to do some tests on smaller slopes that are similar in aspect, elevation and slope angle to what you want to ride on. Choose test slopes that have minimal consequences, especially after a significant snowfall. A well placed slope cut will give you a good feel for the stability of the slope. If there is much wind associated with the storm or if there is snow available for transport before it gets cooked into place, expect to find potentially unstable wind slabs on leeward slopes.
Wet slides and sluffs are pretty easy to manage. As the day wares on and the snow heats up, like clockwork, wet avalanches will become more widespread on steep, sunny slopes. If you're feeling like an ant under a magnifying glass... so is the snow. During the heat of the day, steer clear of terrain traps like gullies and road cuts, where even a small slide can pile up cement-like debris very deeply.
Special Announcement:
And then, there was none... days that is.
I've wrapped up forecasting for the winter, and soon, the only thing separating my skin from warm, blue, Caribbean water will be an evenly distributed layer of Hawaiian Tropic Tanning Oil. However, I couldn't leave without thanking a truly awesome cast of characters. Partnerships are huge to the western Uinta advisory program and both the Heber-Kamas and Evanston Ranger Districts are instrumental in supplying field partners and in-kind support.
First and foremost is the incredible information we get from Ted Scroggin. He has a lot on his plate, but still finds the time to get on the snow and submit snow and weather observations that help the accuracy of this program which ultimately save lives. Ted knows the Uinta's like no other and we are grateful to have such a high caliber forecaster on our team... he is truly the glue that holds this program together.
In addition, Jason Boyer, Dave Kikkert, Chris Brown and Bob Merrill submitted super detailed daily observations and I am deeply grateful to them. They kept my head in the snow when my boots weren't able to make it :)
I would be remiss if I didn't thank Tyler St. Jeor, Andy VanHouten, Austin Balls, Andy Nassetta, and Weston Deutschlander Big Al, Cal Taylor, Eston Kimber who devoted a ton of energy to our sled specific avy awareness classes. Also, John Garofalo's weekly snowpit profiles are simply amazing and Michael Janulaitis' info was top-notch this year!
In addition, many thanks to the Park City Powder Cats (PCPC), not only for all the snow and avalanche information and for the great professional dialog during times of heightened avalanche danger, but also for your very generous donations to the UAC. The Powdercats host our sled specific avalanche classes and this year donated two days of cat skiing with proceeds going to the avalanche center. Many thanks to Ron Baldis, Johnny Adolphson, and the rockin' PCPC crew... what a first class operation!
We couldn't get out on the snow without the great support from Polaris, Ski Doo, and Arctic Cat as well as KTM and Timbersled. Our local dealers make it happen. Tri-City Performance, Weller Recreation, Northstar's Ultimate Outdoors, Big Pine and Morgan Valley Polaris. We use these machines to monitor the snowpack across the state of Utah. We also use these machines to teach life-saving classes.
In addition, the National Weather Service helped us maintain a total of six weather stations. Many thanks to Steve, Al, Greg, and Randy for making this happen.
And finally, thanks to all of you who helped support this program by attending our annual fundraisers and classes and by submitting snow and avalanches observations.
Be sure to mark your calendars... save the date and take a date -
Join us for the Black Diamond Fall Fundraiser Party on Thursday, September 13th
Along with the annual Boondocker premiere Thursday October 25th at Brewvies
And don't forget to attend the Utah Snow and Avalanche Workshop at the Mountain America Expo Center in Sandy, Saturday, October 27th.
Details to follow throughout the summer and early fall!
Of course, we're still interested in the snowpack. See or trigger an avalanche? Shooting cracks? Hear a collapse? It's simple. Go here to fill out an observation.
My colleagues and I want to thank you for all the support!
Recent Activity:
A full list of avalanches is found here.
General Announcements:
If you're getting out and about, please let me know what you're seeing especially if you see or trigger and avalanche. I can be reached at craig@utahavalanchecenter.org or 801-231-2170
It's also a good time to set up one of our very popular avalanche awareness classes. Reach out to me and I'll make it happen.
This information does not apply to developed ski areas or highways where avalanche control is normally done. This advisory is from the U.S.D.A. Forest Service, which is solely responsible for its content. This advisory describes general avalanche conditions and local variations always occur.
Rose: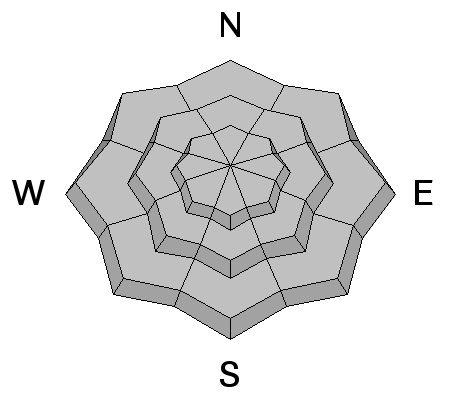 Rose: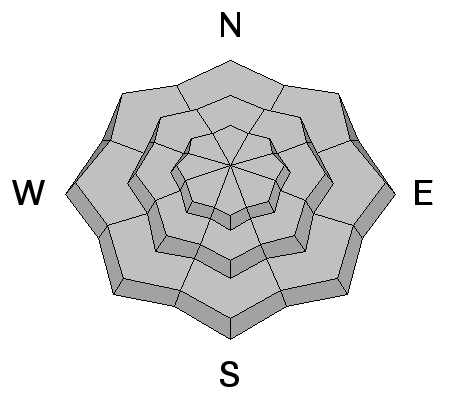 Rose: