Description: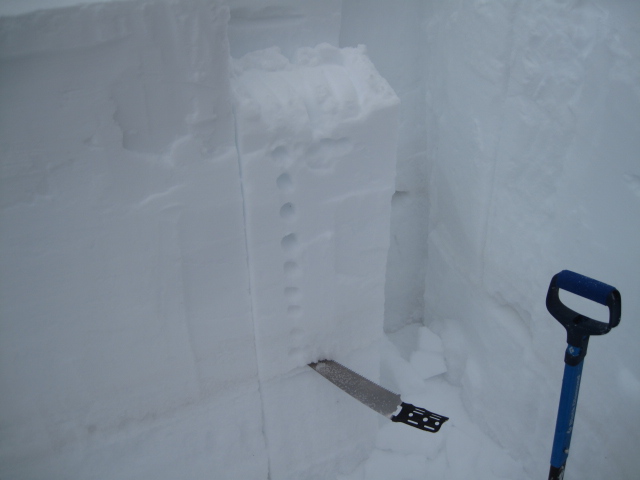 Last weeks string of human triggered avalanches is strong evidence suggesting our persistent weakness (seen where Ted's snow saw rests in the pit above) now buried 2'-3' deep in the midpack, isn't in a hurry to heal. It's not a widespread problem, but the consequences remain severe. Once triggered, an avalanche breaking into these layers will quickly get out of hand and instantly ruin our day. The most likely suspects are steep, wind drifted slopes facing north half of the compass. Since this avalanche dragon is unpredictable, the best offense is a good defense...  you simply avoid it. Swing around to lower elevation slopes or choose low angle terrain with no steep slopes above or adjacent to the slopes your riding. (Scroggin photo)
Special Announcement: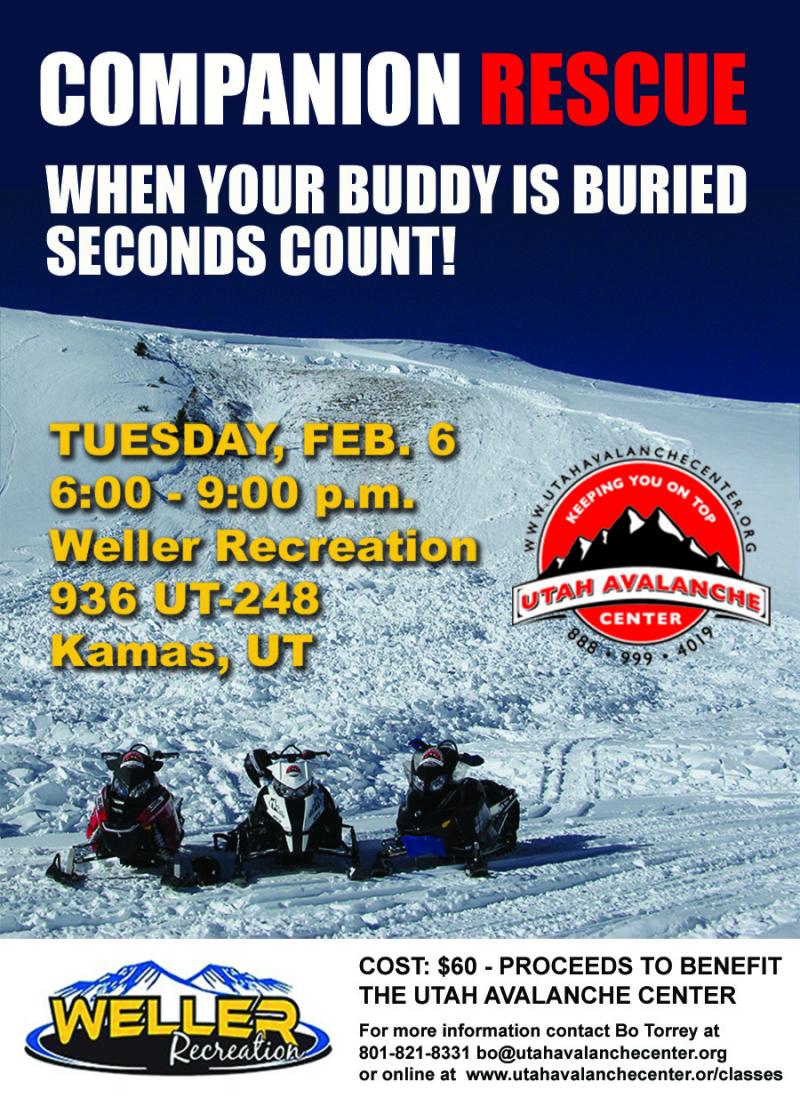 There's still a few slots left. Please join us 6:00-9:00 PM, Tuesday Feb. 6th at Weller's Recreation for our Companion Rescue class. Details and registration are found here. Hurry.... operators are still standing by!
Current Conditions:
Under cloudy skies, temperatures are in the mid to upper 20's, and an inch of snow fell in the past 24 hours. Westerly winds increased Sunday afternoon and have been humming along in the 50's and 60's, gusting in the 70's along the high peaks since about 2:00 this morning. It's a mixed bag out there today... but somewhere amongst the wind blasted bowls and old tracks, soft settled snow still exists on wind sheltered, mid elevation, shady terrain.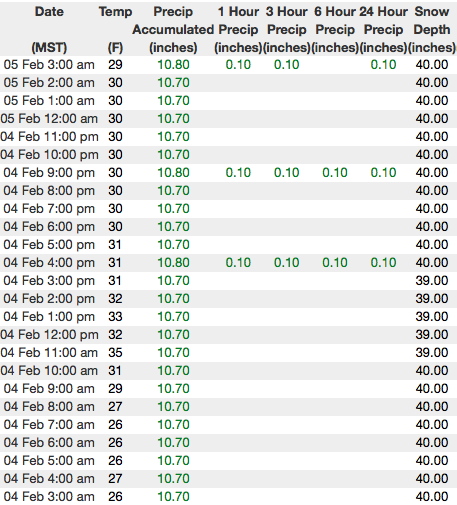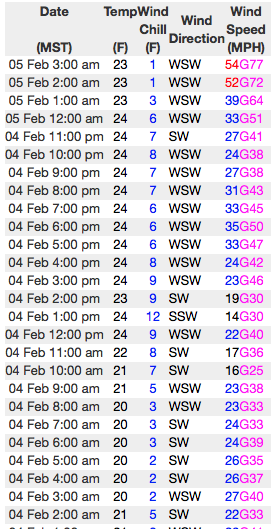 Above are 24 hour temperatures and snow depth from Trial Lake along with winds and temperatures from Windy Peak. More remote Uinta weather stations are found here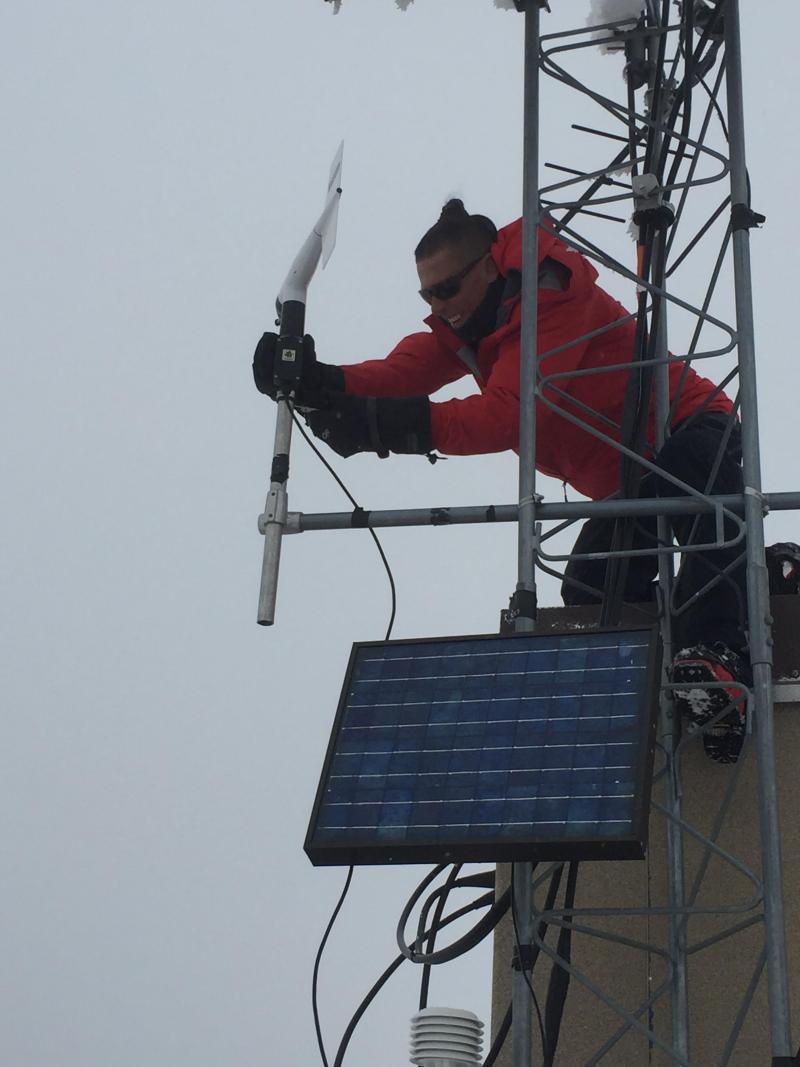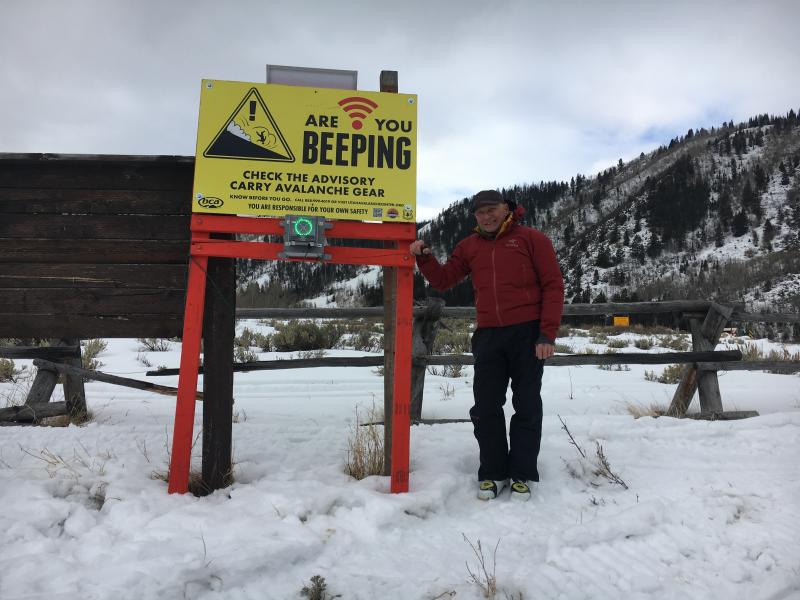 A super productive Superbowl Sunday getting projects done on the eastern front. Big thanks to Jeff Duenwald for taking time out of his busy life to lend a hand maintaining the Currant Creek Peak wind site and installing a beacon checker at Nobletts Trailhead. Along with being a world class guy, Jeff is also a world class climber and mountaineer. In short... a true BA with first ascents in Alaska in the 60's and 70's. 
A great body of recent trip reports, observations, and snow data are found here.  
Recent Activity:
No new avalanche activity to report
Mountain Weather: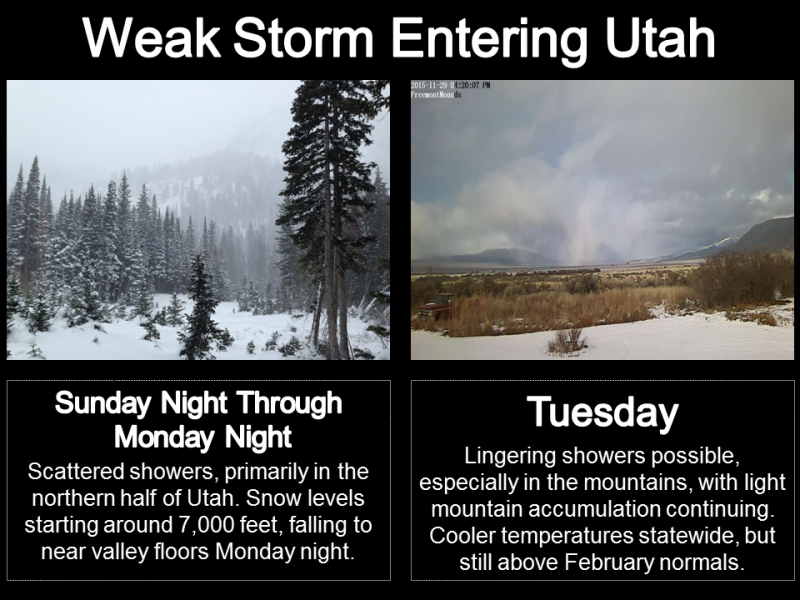 The area remains under a moist, northwest flow through late tonight with a chance for light snow continuing into tomorrow morning. For today, look for mostly cloudy skies with highs reaching into the low 40's. Westerly winds blow in the 40's with gusts in the 60's along the high peaks.
Bottom Line:
At and above treeline, in mid and upper elevation terrain, the avalanche danger is MODERATE. Human triggered avalanches are possible on steep, wind drifted slopes, especially those facing the north half of the compass and particularly those with an easterly component to their aspect. Once triggered, today's avalanches can quickly get out of hand if they break into weak layers of snow now buried several feet deep in our snowpack.
Most wind sheltered mid and low elevation terrain, especially south facing slopes offer generally LOW avalanche danger.
Description:
Strong winds are finding enough loose snow to whip into stiff, stubborn drifts. Found mostly on the leeward side of mid and upper elevation ridges, today you'll want to look for and avoid any fat, rounded piece of snow, especially if it sounds hollow like a drum. 
General Announcements:
The information in this advisory expires 24 hours after the date and time posted, but will be updated by 7:00 AM Tuesday February 6th, 2018.
If you're getting out and about, please let me know what you're seeing especially if you see or trigger and avalanche. I can be reached at craig@utahavalanchecenter.org or 801-231-2170
It's also a good time to set up one of our very popular avalanche awareness classes. Reach out to me and I'll make it happen.
This information does not apply to developed ski areas or highways where avalanche control is normally done. This advisory is from the U.S.D.A. Forest Service, which is solely responsible for its content. This advisory describes general avalanche conditions and local variations always occur.
Rose: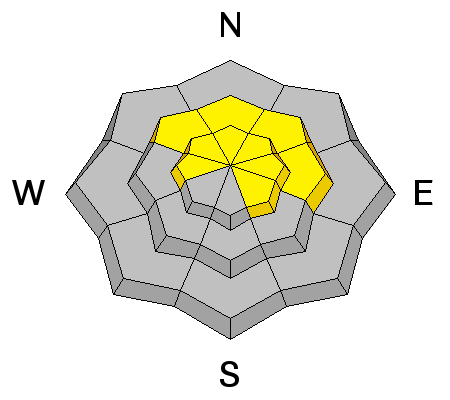 Rose: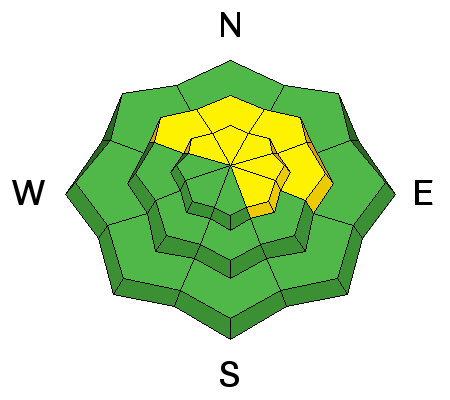 Rose: