Description:
New snow along with wind drifted snow will increase the chance of triggering an avalanche that breaks into old weak sugary faceted snow buried deeper in the snowpack.  Snowpit tests continue to show that the weak snow deeper in the snowpack can fail.  The tests I did on Sunday were pretty stubborn to get to fail but still fully propagated through the weak snow.
Current Conditions:
The storm ended up doing ok for the Skyline giving it 8 to 11 inches of new snow by the time it was all said and done. Northwest wind on Sunday continued to be a bit more gusty than I anticipated. This means that the new snow will have been blown into drifts in many areas especially near the ridges. The wind was getting down into the canyon bottoms as well.
Mountain Weather:
We'll see clearing skies today with ridgetop high temperatures in the upper teens and moderate speed northwest wind. High pressure moves in through most of the week with warming temperatures and mostly clear skies. It looks like there is some sort of weather disturbance toward the end of the week.
Bottom Line:
The new snow and wind has increased the avalanche danger. The avalanche danger is CONSIDERABLE on steep slopes that face northwest, and especially north and east. If you avoid the slopes mentioned, the avalanche danger is much lower and you can safely travel around.
Description:
Fresh wind drifts will probably still be somewhat sensitive today. While there may be some fresh wind slabs that crack out today, an avalanche that breaks into old snow is by far the biggest concern.
General Announcements:
Support the Utah Avalanche Center through your everyday shopping. DETAILS HERE
We will publish full detailed advisories Saturday and Sunday mornings by 7am. We will also be publishing basic avalanche danger ratings & info during the week.
If you are getting out into the mountains, we love to hear from you! You can SUBMIT OBSERVATIONS ONLINE or EMAIL US
If you would like to have avalanche advisories emailed to you, SIGN UP HERE
We can provide basic avalanche awareness presentations for your school, group or club. To enquire, CLICK HERE
Rose: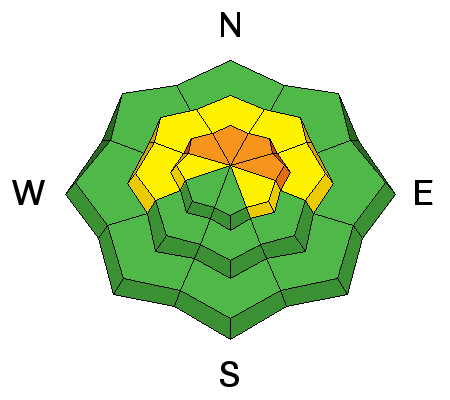 Rose: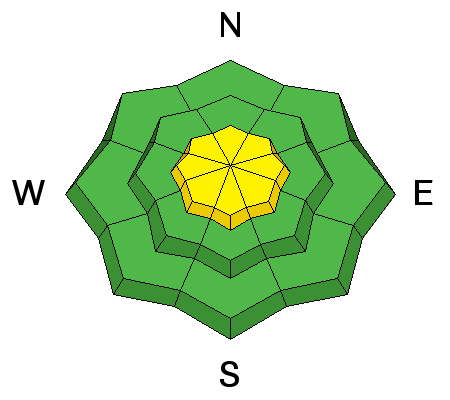 Rose: