Description:
LOW danger doesn't mean NO danger.  Small avalanches can still be triggered in isolated places or radical terrain.  The most likely place to trigger any of these slides would be on a steep, upper elevation northwest through northeasterly facing slope.
Watch for wind drifts following last week's NE winds. Also, watch for loose snow sluffs on steep slopes.
Otherwise the snowpack continues to weaken and facet on nearly all aspects except due south. This faceting isn't an avalnche problem until we get more snow to form a slab on top of it (video).
Special Announcement:
Get important updates from the UAC via text message directly to your phone. Its very simple - text 40404 and send this message "Follow uacwasatch".
Looking for a great stocking stuffer for Christmas? Discount lift tickets for Alta, Snowbird, Brighton, Solitude, Deer Valley, Snowbasin,and Beaver Mountain are now available, donated by the resorts to benefit the Utah Avalanche Center. Details and order information here. These make a great holiday gift and all proceeds go towards paying for avalanche forecasting and education!
Please abide by the uphill travel policies of the ski resorts.   Info here.
Current Conditions:
This morning mountain temperatures are generally ten degrees warmer than valley locations. At many places above 8000 ft, temperatures are in the low 30's F. LIght northerly winds are blowing 5-10 mph with slighly higher gusts.
The Provo area mountains have very little snow especially on Timpanogos. More snow exists along Cascade mountain. South aspects are forming an ice crust at the surface as they dampen and refreeze each day. Most other aspects have dry powder which seems even drier as it facets and looses cohesion.
With limited terrain available for riding (low tide as some call it), take the time to practice with your rescue gear if you get out. Watch this video. Matt and Tom were glad they had practiced and luckily had a happy ending.
Recent Activity:
No avalanches have been reported in the Provo area mountains.
Mountain Weather:
Sunny skies and warm temperatures in the mountains will continue through midweek and beyond. Temperatures each day will warm into the upper 30s to mid 40s, with the overnight low dipping into 20s. The northerly winds will average 5 to 15 mph, with the highest peaks averaging 20 to 25 mph.
Bottom Line:
The avalanche danger is LOW. Small slides are unlikely but could be triggered in isolated areas, mostly upper elevation northerly slopes and some east facing slopes that received wind drifted snow last Thursday.
General Announcements:
Remember your information can save lives. If you see anything we should know about, please help us out by submitting snow and avalanche conditions. You can also call us at 801-524-5304, email by clicking HERE, or include #utavy in your tweet or Instagram.
To get help in an emergency (to request a rescue) in the Wasatch, call 911. Be prepared to give your GPS coordinates or the run name. Dispatchers have a copy of the Wasatch Backcountry Ski map.
Backcountry Emergencies. It outlines your step-by-step method in the event of a winter backcountry incident.
If you trigger an avalanche in the backcountry, but no one is hurt and you do not need assistance, please notify the nearest ski area dispatch to avoid a needless response by rescue teams. Thanks.
EMAIL ADVISORY If you would like to get the daily advisory by email you subscribe here.
DAWN PATROL Hotline updated daily by 5-530am - 888-999-4019 option 8.
TWITTER Updates for your mobile phone - DETAILS
UDOT canyon closures: LINK TO UDOT, or on Twitter, follow @UDOTavy, @CanyonAlerts or @AltaCentral
Utah Avalanche Center mobile app - Get your advisory on your iPhone along with great navigation and rescue tools.
Powderbird Helicopter Skiing - Blog/itinerary for the day
To those skinning uphill at resorts: it is critical to know the resort policy on uphill travel. You can see the uphill travel policy for  each resort here.
Support the UAC through your daily shopping. When you shop at Smith's, or online at REI, Backcountry.com, Patagonia, NRS, Amazon, eBay by clicking on these links, they donate a portion of your purchase to the FUAC. If you sell on eBay, you can have your See our Donate Page for more details on how you can support the UAC when you shop. 
Benefit the Utah Avalanche Center when you buy or sell on ebay - set the Utah Avalanche Center as a favorite non-profit in your ebay account here and click on ebay gives when you buy or sell. You can choose to have your seller fees donated to the UAC, which doesn't cost you a penny.
This information does not apply to developed ski areas or highways where avalanche control is normally done. This advisory is from the U.S.D.A. Forest Service, which is solely responsible for its content. This advisory describes general avalanche conditions and local variations always occur.
Date:
Sunday, December 10, 2017
Rose:
Rose: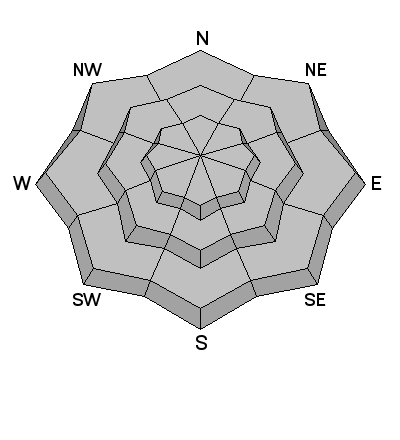 Rose: