Description:
The shallow, old September and November snow on the ground is now loose and sugary. This weak snow can be seen from a distance on the highest peaks of the Provo area mountains, on upper elevation slopes facing northwest thorough easterly. The afternoon's new snow will form a slab on this weak layer, and it will be possible for a person to trigger avalanches on steep slopes if you go to the highest peaks.
The "whiter" and more "filled in" a slope looks, the more likely it is to have the dangerous weak old snow beneath the new. Yesterday's winds have made this weak layer patchy, and there is a lot of variability over short distances. With facets as a weak layer, you can trigger slides from a distance.
Special Announcement:
If you are traveling north, Snowbird and Alta are closed to uphill travel as they get their resort ready for the season. Each resort has different uphill travel policies - please abide by signage and closures and check in with the local ski patrol.
Our Education and Calendar pages are already chock-full of classes and events - find something that suits you, like our Companion Rescue workshops, a free Know Before You Go awareness talk, or sign up for our of our Backcountry 101 classes.
Longtime observer Tom Diegel has a great blog series called The Little Things (that might keep you alive). He has four installments. You can find these and many other great essays and posts in the UAC blog series here.
Current Conditions:
Ahead of the cold front, light rain and snow fell overnight, with about .25 inches of rain at the mid and low elevations of the Provo area mountains.  Probably there is an inch or two of new snow above 10,000'.   Strong, southerly winds ahead of the front have been averaging 25 – 35 mph along mid-elevation ridgelines, gusting to 60. Temperatures have been to warm, still in the 40s at many locations.  Snow today will be falling on bare ground today in the Provo area mountains, except for the upper elevation, shady slopes.
 See Mark Staples's video below on youtube here.  
Recent Activity:
No backcountry observations from the Provo area mountains, but good observations detailing old snow coverage patterns are worth checking out if you are heading to the Salt Lake area mountains.
11/16/2017 Observation: White Pine, Salt Lake region - Nat Grainger
11/12/2017 Observation: West Bowl, Salt Lake region - Greg Gagne
11/11/2017 Observation: Twin Lakes area, Salt Lake region - Paradis
Mountain Weather:
The approaching cold front is forecast to reach the Provo area mountains by mid afternoon. Ahead of the front, light rain and snow showers will continue, with temperatures in the 30s and 40s and the rain/snow line slowly falling to around 7,500'. The moderate to strong southwesterly winds will averaging 20 to 30 mph, with gusts in the 40s. Gusts will be in the 40 to 60 mph range along the mid to upper elevation ridgelines.
Frontal passage should bring a few hours of heavier snowfall, adding up to about 6" of snow, with higher amounts above 10,000'. Winds will shift to the northwest and remain strong for several hours before decreasing tonight. Temperature will plummeting into the single digits tonight. Unfortunately, the future looks warm and dry, with 10,000' highs near 40 by Sunday and Monday and no snow in the forecast through Thanksgiving.
Bottom Line:
The avalanche danger is increasing to MODERATE as the snow adds up, and if the snow and strong wind forecasts verify, the danger could reach CONSIDERABLE this afternoon at the highest elevations, with natural avalanches possible. Avoid the travel on and below the steep, upper elevation northwest through easterly facing slopes, especially where wind drifted. Here, slides could also break into the older faceted snow, and be triggered remotely from a distance. Treat the unopened ski area terrain as the backcountry as the avalanche teams have yet to do control work. Many resorts are closed to uphill travel.
We will have morning updates this Saturday and Sunday, with additional forecasts as conditions warrant.
Description:
Once the heavier snow arrives this afternoon, strong winds from the southwest and then northwest will form sensitive drifts, again at the highest elevations, along ridgelines and on open slopes. Indications you are in a wind-drifted area are finding deeper denser snow and cracking in the new snow. Jump on small test slopes, but avoid steep slopes with wind drifts. Also, even out of wind-affected terrain, there may be poor bonding of the new snow to the slick or sugary old snow surfaces.
General Announcements:
Remember your information can save lives. If you see anything we should know about, please help us out by submitting snow and avalanche conditions. You can also call us at 801-524-5304, email by clicking HERE, or include #utavy in your tweet or Instagram.
To get help in an emergency (to request a rescue) in the Wasatch, call 911. Be prepared to give your GPS coordinates or the run name. Dispatchers have a copy of the Wasatch Backcountry Ski map.
Backcountry Emergencies. It outlines your step-by-step method in the event of a winter backcountry incident.
If you trigger an avalanche in the backcountry, but no one is hurt and you do not need assistance, please notify the nearest ski area dispatch to avoid a needless response by rescue teams. Thanks.
EMAIL ADVISORY If you would like to get the daily advisory by email you will need to subscribe here.
DAWN PATROL Hotline updated daily by 5-530am - 888-999-4019 option 8.
TWITTER Updates for your mobile phone - DETAILS
UDOT canyon closures: LINK TO UDOT, or on Twitter, follow @UDOTavy, @CanyonAlerts or @AltaCentral
Utah Avalanche Center mobile app - Get your advisory on your iPhone along with great navigation and rescue tools.
Powderbird Helicopter Skiing - Blog/itinerary for the day
Lost or Found something in the backcountry? - http://nolofo.com/
To those skinning uphill at resorts: it is critical to know the resort policy on uphill travel. You can see the uphill travel policy for each resort here.
Benefit the Utah Avalanche Center when you shop from Backcountry.com or REI: Click this link for Backcountry.com or this link to REI, shop, and they will donate a percent of your purchase price to the UAC. Both offer free shipping (with some conditions) so this costs you nothing!
Benefit the Utah Avalanche Center when you buy or sell on ebay - set the Utah Avalanche Center as a favorite non-profit in your ebay account here and click on ebay gives when you buy or sell. You can choose to have your seller fees donated to the UAC, which doesn't cost you a penny.
This information does not apply to developed ski areas or highways where avalanche control is normally done. This advisory is from the U.S.D.A. Forest Service, which is solely responsible for its content. This advisory describes general avalanche conditions and local variations always occur.
Date:
Thursday, November 16, 2017
Rose: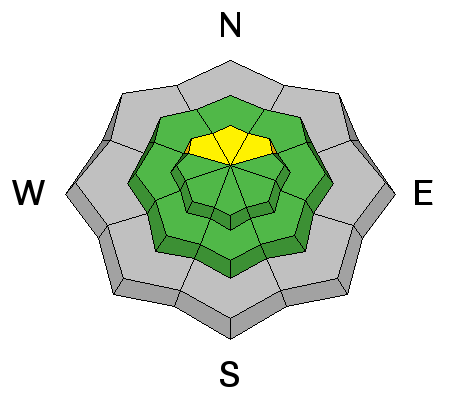 Rose: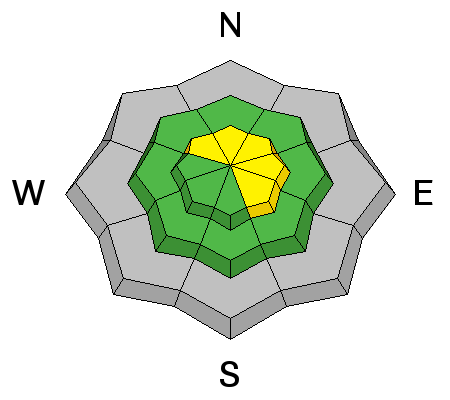 Rose: