Date:
Sunday, December 31, 2017
Description:
This is a time of low probability, but high consequences for triggering avalanches on the steep northerly through easterly facing slopes.  It is less likely that you will trigger a slide on the layer of loose, weak faceted snow, but if you do, it will be large enough to take you for a ride and bury you. With a slab over a persistent faceted weak layer, the avalanche danger never really disappears.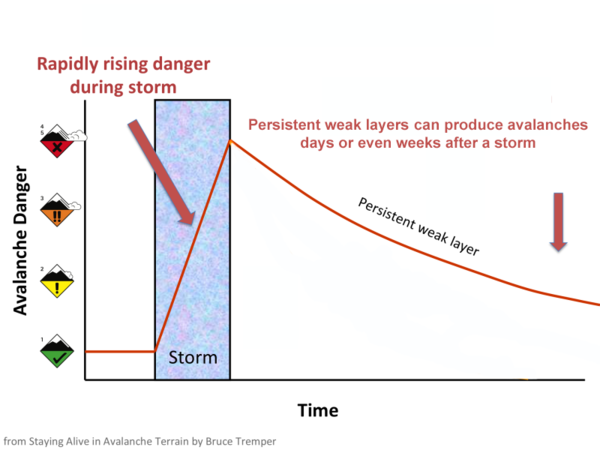 If you do venture onto steep north through easterly facing slopes, consider the consequences if the slope does slide – will you be dragged through trees or over a cliff?  Or is it a broad, open slope with no terrain trap at the bottom?  Are your partners ready to perform a rescue?
Wind Slabs –The overnight stronger winds may have drifted the snow along the highest 10,000' ridgelines and peaks – look for and avoid any fresh wind drifts.
Current Conditions:
Skies are clear this morning, and there's a slight temperature inversion.  Readings are in the teens in the canyon bottoms, low twenties at the mid elevations, and teens once again at 11,000'. The northwesterly winds are currently less than 10 mph at the mid elevations, but across the higher peaks to the north speeds were much stronger overnight at the 11,000' elevations, where they averaged 40 to 50 mph for several hours.  
Yesterday, in the Salt Lake area mountains, Drew and Eric found a "Classic mixed bag of old, tired snow with melt freeze crusts and damp snow on sun exposed slopes, wind affected snow on exposed northerly aspects, and settled dense loose and near surface facets forming on sheltered northerly aspects".  Probably similar to the upper elevations of the Provo area mountains.
Recent Activity:
No new avalanche activity was reported from the backcountry, but there are no recent observations from the Provo area mountains. 
Mountain Weather:
High pressure will strengthen through tomorrow, bringing sunny skies and balmy temperatures to the mountains.  Temperatures today will warm into the mid 30s to near 40° F, before dropping into the upper teens and low twenties again tonight. The northwesterly winds are at their strongest this morning – 15 to 25 mph, but will shift to the northeast and gradually decrease into the 5 to 15 mph range by evening. There is a glimmer of hope for that a small storm will break through the ridge this weekend, producing a little mountain snow
Bottom Line:
The Avalanche Danger is MODERATE on steep, mid and upper elevation slopes facing northerly through easterly.   Large avalanches can still be triggered in isolated areas.  While the chance of triggering a slide has decreased, the size has not – the avalanche would be 1 to 2 feet deep and up to 200' wide, failing on sugary, faceted snow. 
Safer terrain are slopes less steep about 30 degrees, which are not below steeper terrain, such as meadows and rolling, low angle terrain.
Identify and avoid any wind drifts that may have been formed along the high ridgelines by the overnight strong winds.  
General Announcements:
FOR MORE GENERAL INFORMATION AND FAQ, CLICK HERE
Support the UAC through your daily shopping. When you shop at Smith's, or online at REI, Backcountry.com, Patagonia, NRS, Amazon, eBay a portion of your purchase will be donated to the FUAC. See our Donate Page for more details on how you can support the UAC when you shop.
Benefit the Utah Avalanche Center when you buy or sell on eBay - set the Utah Avalanche Center as a favorite non-profit in your eBay account here and click on eBay gives when you buy or sell. You can choose to have your seller fees donated to the UAC, which doesn't cost you a penny
This information does not apply to developed ski areas or highways where avalanche control is normally done. This advisory is from the U.S.D.A. Forest Service, which is solely responsible for its content. This advisory describes general avalanche conditions and local variations always occur.