Description:
Isolated wind slabs may be triggered in high elevation drifted terrain and generally located above 9000' on steep northeast to southeast facing slopes. Collapsing and cracking of snow pillows are immediate signs of instability.
Special Announcement: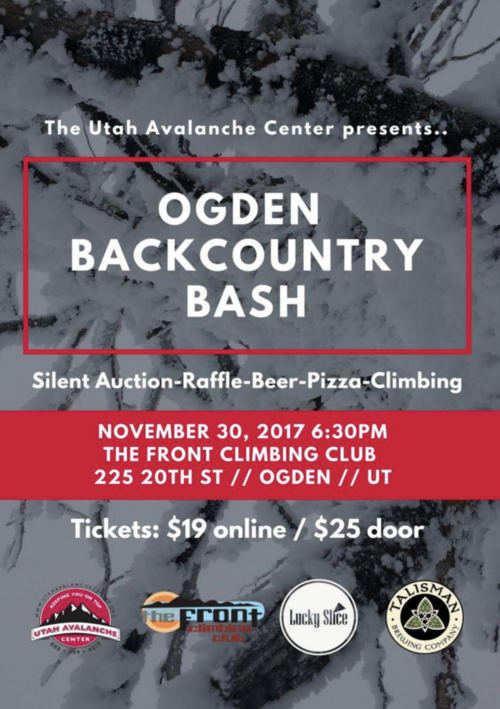 For more info on the Ogden Backcountry Bash, click here
Our Education and Calendar pages are already chock-full of classes and events - find something that suits you, like our Companion Rescue workshops, a free Know Before You Go awareness talk, or sign up for our of our Backcountry 101 classes.
Longtime observer Tom Diegel has a great blog series called The Little Things (that might keep you alive). He has four installments. You can find these and many other great essays and posts in the UAC blog series here.
Unopened ski area terrain has a backcountry snowpack, as avalanche mitigation work has not been done. Each resort has different uphill travel policies - please abide by signage and closures and check in with the local ski patrol.
Current Conditions:
Skies are partly cloudy this morning and mountain temperatures have rapidly warmed into the mid to upper 20s  Southwest winds are 15mph at James Peak and 20-25mph along the Ogden skyline. As the storm came in dense and thick with plenty of graupel and followed with right-side-up powder (trending high to low density), skiing and riding conditions are excellent on north facing, low angle grassy slopes. South and westerly slopes became damp in the afternoon.
Friday's storm totals are below:
Ogden area mountains:  12 – 18" of new snow, landing on mostly bare ground. Monte Cristo area pushed 2' of storm totals. 
Salt Lake area mountains:  9 to 17" of new snow, with up to 2 feet of snow on the ground in the upper elevations of the Cottonwoods
Park City area mountains:  8 – 14" of new snow, with 10 to 15" on the ground at upper elevations
Provo area mountains:  2 to 5" of new snow, above about 6,000' with likely up to a foot on the ground in the high elevations
Recent Activity:
None.   Kory Davis has an excellent observation from Monte Cristo yesterday.  
Mountain Weather:
Back to the bad news. The weather forecast for storms looks a bit bleak until perhaps the last days of the month. For today, we'll have sunny skies, mountain temps reaching into the low to mid-30s, and west to southwest winds less than 15mph. A weak storm brushes by to the north for Mon/Tues dropping temps a few degrees and bumping wind speeds to 20-30mph, but we'll see little precipitation for our trouble.
Bottom Line:
The danger is generally LOW. Wind drifts may be sensitive to human weight in isolated terrain along the highest elevations. The steep sunny aspects may be damp and unstable with direct sun and warming.
General Announcements:
Remember your information can save lives. If you see anything we should know about, please help us out by submitting snow and avalanche conditions. You can also call us at 801-524-5304, email by clicking HERE, or include #utavy in your tweet or Instagram.
To get help in an emergency (to request a rescue) in the Wasatch, call 911. Be prepared to give your GPS coordinates or the run name. Dispatchers have a copy of the Wasatch Backcountry Ski map.
Backcountry Emergencies. It outlines your step-by-step method in the event of a winter backcountry incident.
If you trigger an avalanche in the backcountry, but no one is hurt and you do not need assistance, please notify the nearest ski area dispatch to avoid a needless response by rescue teams. Thanks.
EMAIL ADVISORY If you would like to get the daily advisory by email you will need to subscribe here.
DAWN PATROL Hotline updated daily by 5-530am - 888-999-4019 option 8.
TWITTER Updates for your mobile phone - DETAILS
UDOT canyon closures: LINK TO UDOT, or on Twitter, follow @UDOTavy, @CanyonAlerts or @AltaCentral
Utah Avalanche Center mobile app - Get your advisory on your iPhone along with great navigation and rescue tools.
Powderbird Helicopter Skiing - Blog/itinerary for the day
Lost or Found something in the backcountry? - http://nolofo.com/
To those skinning uphill at resorts: it is critical to know the resort policy on uphill travel. You can see the uphill travel policy for each resort here.
Benefit the Utah Avalanche Center when you shop from Backcountry.com or REI: Click this link for Backcountry.com or this link to REI, shop, and they will donate a percent of your purchase price to the UAC. Both offer free shipping (with some conditions) so this costs you nothing!
Benefit the Utah Avalanche Center when you buy or sell on ebay - set the Utah Avalanche Center as a favorite non-profit in your ebay account here and click on ebay gives when you buy or sell. You can choose to have your seller fees donated to the UAC, which doesn't cost you a penny.
This information does not apply to developed ski areas or highways where avalanche control is normally done. This advisory is from the U.S.D.A. Forest Service, which is solely responsible for its content. This advisory describes general avalanche conditions and local variations always occur.
Date:
Sunday, November 19, 2017
Rose: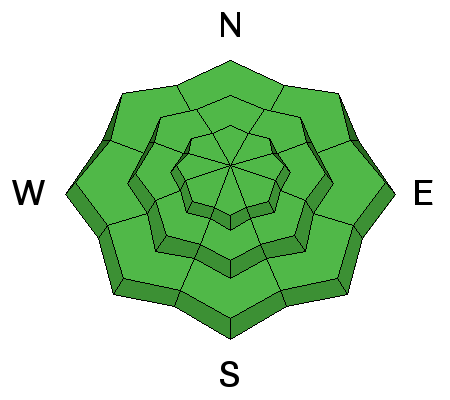 Rose: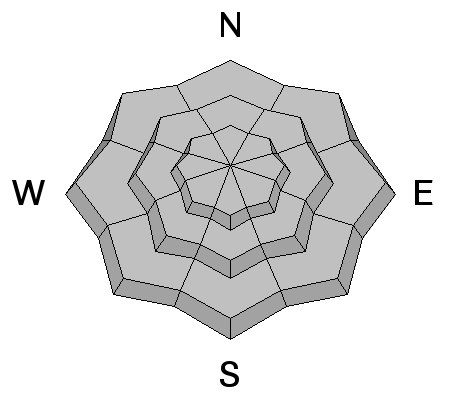 Rose: