Description:
With about an inch of water added to the snowpack in the Ogden area, enough uncertainty remains about how easily or how hard it will be to trigger a persistent slab avalanche. An avalanche triggered in the backcountry north of Snowbasin in Hells Canyon before this weekend's storm was a good warning that with the additional load of snow more like that can occur. Further south near Farmington and Bountiful, some facets can be found near an obvious dust layer in the snowpack.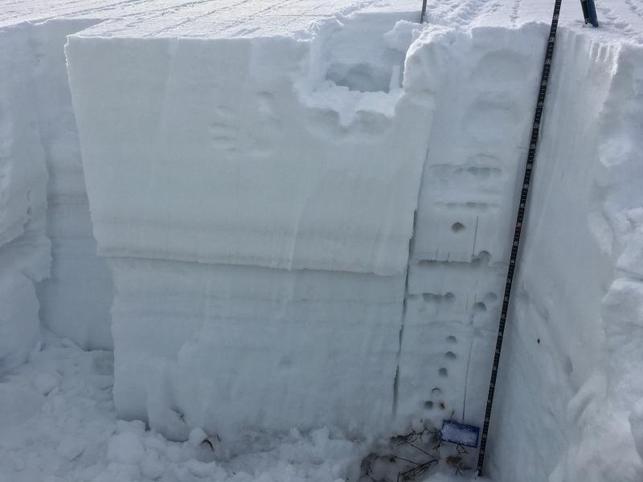 Special Announcement:
We have discount lift tickets for Alta, Snowbird, Brighton, Solitude, Snowbasin,and Beaver Mountain. Details and order information here. All proceeds from these go towards paying for avalanche forecasting and education!
To get help in an emergency (to request a rescue), call 911. Be prepared to give your GPS coordinates or the run name.
If you trigger an avalanche in the backcountry, but no one is hurt and you do not need assistance, please notify the nearest ski area dispatch to avoid a needless response by rescue teams.
Current Conditions:
This morning temperatures are mostly in the teens F and upper single digits F near 9000 ft. Winds at ridgetops are blowing 10-15 mph gusting to 20 mph from the SW and W. This weekend's storm delivered 12-18" of snow in the Ogden area mountains. Yesterday no new snow fell and mostly cloudy skies kept the sun at bay and maintained cold temperatures.
Settled snow depths at mid and upper elevations are rougly 45-50" near Snowbasin, Powder Mountain and Ben Lomond. The Monte Cristo are a has slightly more with about 60" of settled snow.
Recent Activity:
Yesterday one ski patrol in the Ogden area triggered an avalanche almost big enough to bury a car (D2.5) on a 40 degree NE-facing slope.
Mountain Weather:
Clear skies today will allow the strong March sun to quickly warm this morning's cold temperatures. Air temperatures should rise to near freezing but it will feel a lot warmer in the sun especially compared to yesterday. A few high clouds are possible late this afternoon. Winds should blow 5-15 mph from the NW with gusts of 25 mph. The rest of this week will be dry with steadily warming temperatures.
Bottom Line:
Today the avalanche danger is CONSIDERABLE on southerly and westerly aspects for loose wet avalanches. On northerly and easterly aspects at upper elevations, the danger remains CONSIDERABLE for persistent slab avalanches. The loose wet avalanches will occur somewhat predictably as strong sunshine heats up sun exposed slopes. Persistent slab avalanches won't give you any warning. You'll have to dig into the snowpack and assess how it is supporting the load of new snow from this weekend. Triggering an avalanche in new snow and wind blown snow remains possible.
Description:
Despite a cold morning, the strong March sunshine should quickly warm southerly facing slopes. The first day new snow receives strong sunshine and heat is always a red flag for loose wet avalanches. The riding quality on sun exposed slopes should deteriorate as the danger for this problem rises. You may see pinwheels or rollerballs tumbling downhill especially under exposed rock bands as an indication that loose, wet avalanches may start occuring. The main threat isn't triggering one, but having one hit you from above.
Description:
Aside from the two primary problems listed above. Some storm slab and wind slab avalanches remain possible. These are becoming less likely but the possibility remains. Photo below shows an example of a small storm slab avalanche triggered yesterday at the head of Big Cottonwood Canyon. Also, watch out for large cornices that have grown even larger with recent snowfall. These monsters may break closer to the ridge than you'd expect.
General Announcements:
CLICK HERE FOR MORE GENERAL INFO AND FAQ
The UAC has new support programs with Outdoor Research and Darn Tough. Support the UAC through your daily shopping. When you shop at Smith's, or online at Outdoor Research, REI, Backcountry.com, Darn Tough, Patagonia, NRS, Amazon, eBay  a portion of your purchase will be donated to the FUAC. See our Donate Page for more details on how you can support the UAC when you shop.
Benefit the Utah Avalanche Center when you buy or sell on eBay - set the Utah Avalanche Center as a favorite non-profit in your eBay account here and click on eBay gives when you buy or sell. You can choose to have your seller fees donated to the UAC, which doesn't cost you a penny
This information does not apply to developed ski areas or highways where avalanche control is normally done. This advisory is from the U.S.D.A. Forest Service, which is solely responsible for its content. This advisory describes general avalanche conditions and local variations always occur.
Rose: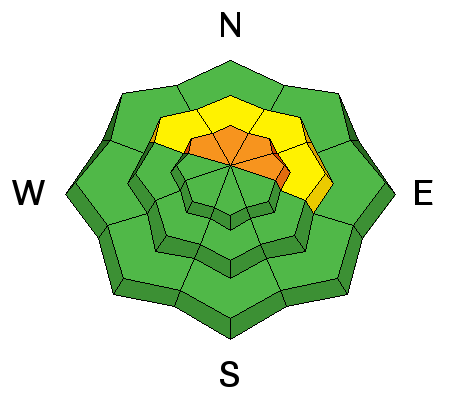 Rose: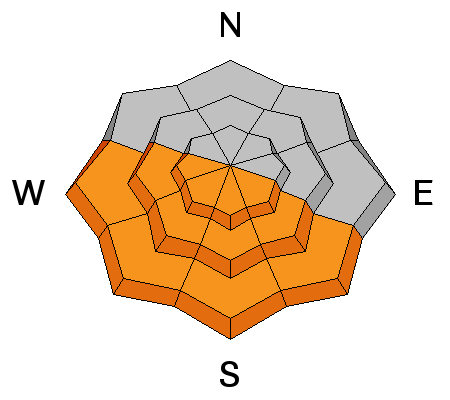 Rose: