Description:
The new snow and wind loading has added additional stress to the pervasive persistent slab problem. Though isolated, this problem presents the greatest threat to backcountry travelers where avalanches up to 3' deep are possible. Suspect steep slopes and areas with rocky, extreme terrain that face primarily NW-N-E though there may be outlying problem areas that face west or southeast. 
Check out this great video from Tim Mathews that illustrates the problem:
Special Announcement:
Thanks to Drew Hardesty for coming down from the Wasatch to cover our part of the world. We've been on exchange for the past week and I appreciated his perspective on things down here.
Episode 6 of the UAC podcast "A Conversation with Tom Kimbrough" is live. We explore ideas about lifetime exposure to risk and what role Buddhism has played in his life as a climber, skier, and soon-to-be octogenarian. We talk about what has changed over the years in snow science and the role of mentorship in the world of avalanche forecasting and other professions and pursuits. Check it out on ITunes, Stitcher, the UAC blog.
The UAC Marketplace is still open. Our online marketplace still has deals on skis, packs, airbag packs, beacons, snowshoes, soft goods and much more.
INSTAGRAM! We now have a UAC-Moab Instagram page. You can find it here....but better yet follow us on your smartphone. Confused? Ask a teenager.
Current Conditions:
The La Sals picked up about 6" from Sunday's storm. Not as much as we need, but at this point we'll take what we get.  Much of the exposed terrain above treeline has taken quite a hit from the wind and sun, and best bet for taking advantage of the new snow will be in sheltered areas. Tim Mathews was out near Mount Tomasaki on Monday and not only managed to find some decent looking turns, he also sent in this great observation.
Base depth in Gold Basin: 40"   Base depth at Geyser Pass Trailhead: 28" 
New snow totals in Gold Basin.
Snow totals at the Geyser Pass Trailhead, (9600') 
Wind, temperature, and humidity on Pre Laurel Peak (11,700')
Road conditions to Geyser Pass Trailhead: The road is plowed and but snowpacked and icy in places. Good tires and at least front-wheel drive recommended. 
Grooming conditions: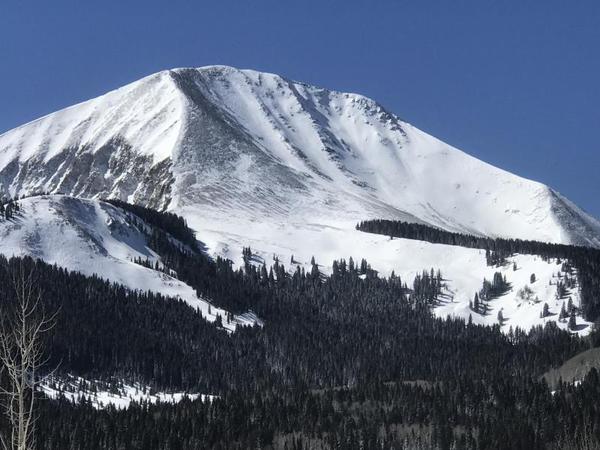 It looks thin but this is actually a decent amount of snow on the North Face of Mount Mellenthin. It often looks like this even on good years due to wind exposure. Tim Mathews photo. 
Mountain Weather:

Bottom Line:
The avalanche danger is MODERATE on steep slopes, primarily above treeline that have recent deposits of wind drifted snow. Areas of MODERATE danger also exist for human triggered avalanches 1- 3' deep. These will be most pronounced at and above treeline on steep northwest to north to southeasterly facing slopes. Elsewhere the avalanche danger is generally LOW.
Description:
Recent shallow deposits of wind drifted snow exist on the lee sides of ridge crests and terrain features in upper elevation, wind exposed terrain. Additionally, hard wind slabs are prevalent on many aspects and elevations and will remain stubborn (but not impossible) for human triggering. They tend to break well above you on the slope, especially as you near the tapered portion of the teardrop where the slab becomes much thinner. Listen for hollow sounds and collapsing...but these may not be present at all. Lastly, avoid being on or beneath heavily corniced ridge lines as they may fail on approach or without warning.
General Announcements:
The UAC has new support programs with Outdoor Research and Darn Tough. Support the UAC through your daily shopping. When you shop at Smith's, or online at Outdoor Research, REI, Backcountry.com, Darn Tough, Patagonia, NRS, Stio, Amazon, and eBay a portion of your purchase will be donated to the FUAC. See our Donate Page for more details on how you can support the UAC when you shop.
Benefit the Utah Avalanche Center when you buy or sell on eBay - set the Utah Avalanche Center as a favorite non-profit in your eBay account here and click on eBay gives when you buy or sell. You can choose to have your seller fees donated to the UAC, which doesn't cost you a penny.
This information does not apply to developed ski areas or highways where avalanche control is normally done. This advisory is from the U.S.D.A. Forest Service, which is solely responsible for its content. This advisory describes general avalanche conditions and local variations always occur.
Rose: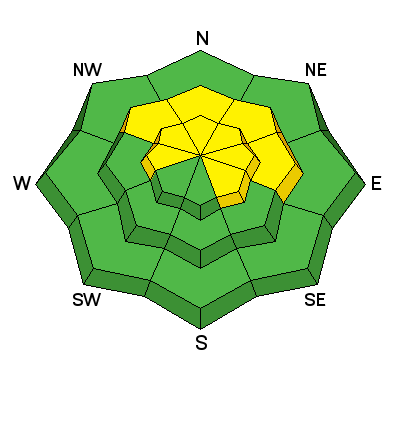 Rose: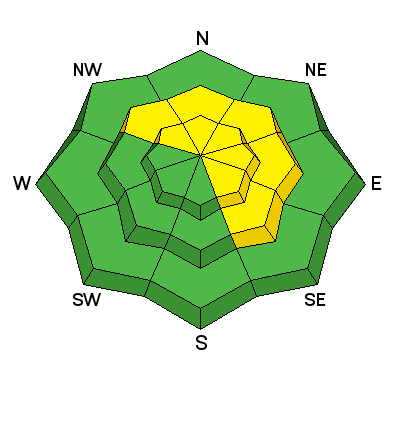 Rose: