Description:
Record warmth around Thanksgiving melted a good deal of snow across the zone, and a solid refreeze last week turned the remaining snow rock hard. A couple brush-by storms deposited an inch or two of snow and this is now weak, faceted and in some areas capped with surface hoar of frost. Persistent slab avalanches could be fairly wide and might run fast and far on the slick underlying snow.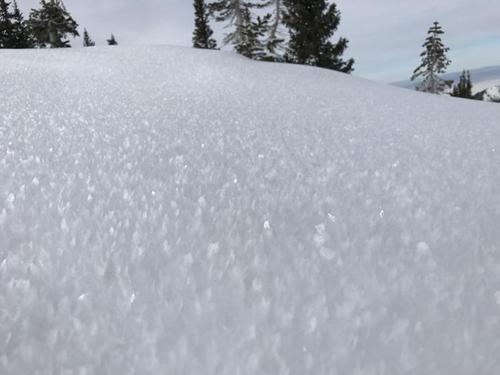 The snow surface at upper elevations Saturday was sparkling with widespread feathery surface hoar or frost crystals. Surface hoar often becomes a tricky persistent weak layer once buried. (Jensen, 12/2/17)
Special Announcement:
Please join us for our 14th annual "Pray for Snow" fundraiser/party, Thursday, December 7 at 6 PM. This year's new location is at the new Cache Venue, 119 South Main St in downtown Logan. Go HERE for advance tickets and more information.
Don't know what to buy your favorite skier for Christmas? Discount lift tickets for Alta, Snowbird, Brighton, Solitude, Deer Valley, Snowbasin,and Beaver Mountain are now available, donated by the resorts to benefit the Utah Avalanche Center. Details and order information here. These make a great holiday gift and all proceeds go towards paying for avalanche forecasting and education!
Current Conditions:
 The Tony Grove Snotel at 8400' reports 16°F and 35" of total snow containing 118% of average SWE (Snow Water Equivalent). The site recorded 27" of new light snow Monday morning.   It's 15°F at 9700'  at the CSI Logan Peak weather station, with northwest wind currently blowing 9 mph, with gusts to 32 mph.  We found very nice deep powder riding conditions near Tony Grove Lake yesterday.
Just beneath the fresh powder, shallow early season snow conditions exist, and hitting rocks or stumps is a significant hazard. Travel cautiously and keep your speed down.   The Tony Grove Road is not maintained for wheeled travel in the winter.
Recent Activity:
With clearing yesterday we could see evidence of a fairly widespread natural avalanche cycle that occurred in the Central Bear River Range during the intense storm Sunday night (12/3/17), which deposited 27" at the Tony Grove Snotel. The storm slab avalanches on north through east facing slopes above 8200' ranged from 40' to 200' in width and were all about 2' deep. The avalanches failed on a layer of sugary faceted snow and/or feathery surface hoar above the stout Thanksgiving crust.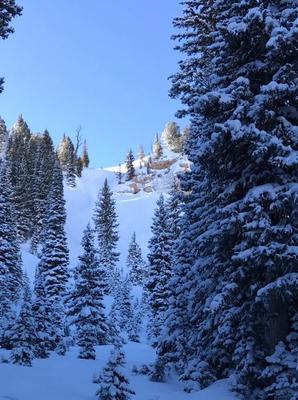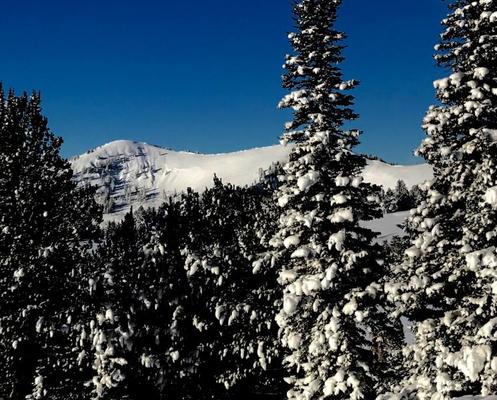 Jensen (12/5/17)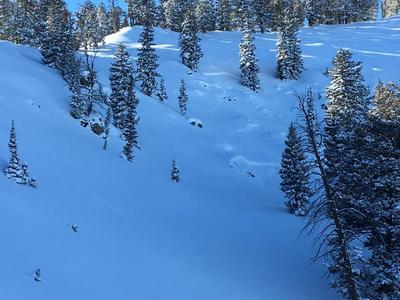 Weed (12/5/17)
Mountain Weather:
Strong high pressure centered to the west of Utah will maintain a stable northerly flow across the Great Basin through the end of the week.
Bottom Line:
Heightened avalanche conditions exist on upper and mid elevation slopes in the backcountry. Pockets with more dangerous conditions and a CONSIDERABLE danger might be found in exposed upper elevation terrain. Human triggered persistent and wind slab avalanches are possible. Evaluate snow and terrain carefully. Avoid steep drifted slopes at upper elevations.
A ride in even a small avalanche could be particularly dangerous due to the hard underlying snow and potential for being raked through rocks or deadfall below.
Description:
Monday's light powder snow was easily drifted into stiffer wind slabs in exposed terrain. Dangerous wind slab avalanche conditions probably exist on some slopes. Despite fairly calm conditions at mid elevations yesterday, we could see drifting going on at upper elevations due to northwest winds. Avoid fresh drifts near ridges and in and around terrain features like gullies, rock bands and sub-ridges.
General Announcements:
EMAIL ADVISORY: If you would like to get the daily advisory by email you will need to subscribe here.
Benefit the Utah Avalanche Center when you shop from Backcountry.com or REI: Click this link for Backcountry.com or this link to REI, shop, and they will donate a percent of your purchase price to the UAC. Both offer free shipping (with some conditions) so this costs you nothing!
Benefit the Utah Avalanche Center when you buy or sell on ebay - set the Utah Avalanche Center as a favorite non-profit in your ebay account here and click on ebay gives when you buy or sell. You can choose to have your seller fees donated to the UAC, which doesn't cost you a penny.
Remember your information can save lives. If you see anything we should know about, please help us out by submitting snow and avalanche conditions. You can also call us at 801-524-5304, email by clicking HERE, or include #utavy in your tweet or Instagram.
This advisory is from the U.S.D.A. Forest Service, which is solely responsible for its content. This advisory describes general avalanche conditions and local variations always occur.
Date:
Wednesday, December 6, 2017
Rose: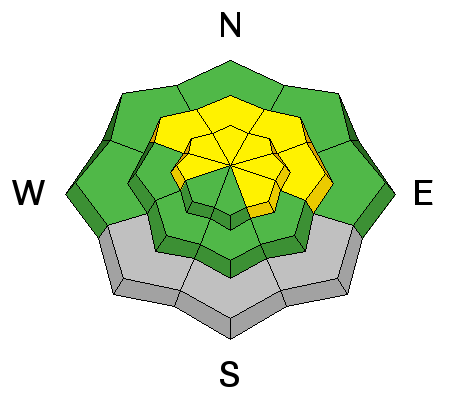 Rose: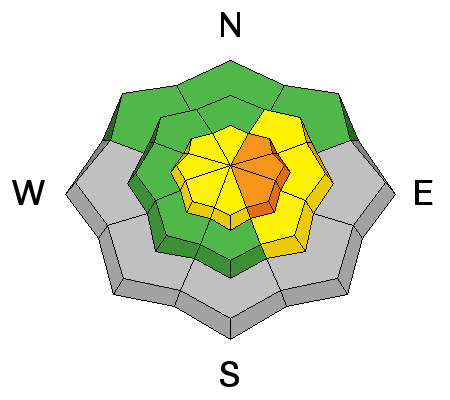 Rose: