Description:
Upper elevation slopes in the Bear River Range picked up significant heavy snow overnight, with sustained south wind. Dangerous avalanche conditions exist and triggered storm slab avalanches are likely on drifted upper elevation slopes with weak preexisting snow.
Current Conditions:
We've hopped straight into winter in the Logan Zone, and you'll need to be on top of your game if you head into the mountains today. Lots of heavy new snow fell and sustained southwest winds howled in the Central Bear River Range overnight. Dangerous storm snow and wind slab avalanche conditions exist at upper elevations, and human triggered avalanches are likely on steep drifted slopes.
The Tony Grove Snotel at 8400' reports 15" of new snow with 2.4" SWE (Snow Water Equivalent) in the last 24 hours. It's 29°F this morning, and there's now 28" total settled snow. Last night's winds were fairly strong out of the south and southwest, with Logan Peak showing sustained 25 mph hourly averages and consistent 30 to 40 mph recorded on Ogden peak. Both wind sensors are encased in rime (ice) this morning.
Shallow, early season snow conditions exist, and hitting rocks or down and dead wood presents a significant hazard. Travel cautiously and keep your speed down. In these conditions the risk of injury is significantly increased. If you were to get caught in even a small avalanche, you risk being raked through rocks and deadfall below
The Tony Grove Road is not maintained for wheeled travel in the winter, so if you venture up, have all the needed gear, be patient and be ready to dig.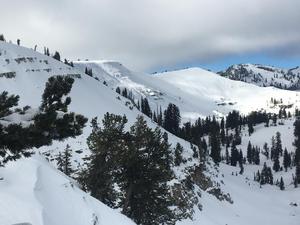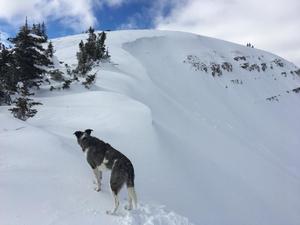 We found pretty good coverage but weakening snow at upper elevations in the Bear River Range last week.
Mountain Weather:
A cold storm system will cross the region today. High pressure will build in over the weekend with a gradual warming trend. Temperatures will gradually drop during the day and be below 20°F​ by this evening. Expect west winds averaging in the 30 mph range and gusting to around 46 mph on the ridge lines. 2 to 4 inches of additional accumulation is likely today. Expect clearing tonight with decreasing west winds and temperatures dropping into the single digits. Looks like we'll see the sun over the weekend, with a high pressure system and warming daytime temperatures. Our next chance for a little snow comes on Monday, with a couple inches possible.
Bottom Line:
CONSIDERABLE: Dangerous avalanche conditions exist on drifted upper elevation slopes. Triggered storm and wind slab avalanches up to about 2' deep are likely. Heightened conditions also exist on some sheltered and mid elevation slopes. A ride in even a small avalanche could be particularly dangerous due to potential for being raked through rocks or deadfall below. Avoid travel in drifted upper elevation terrain.
Description:
Drifting snow will cause the danger of wind slab avalanches to increase in exposed terrain as we head into the weekend.
Date:
Thursday, November 16, 2017
Rose: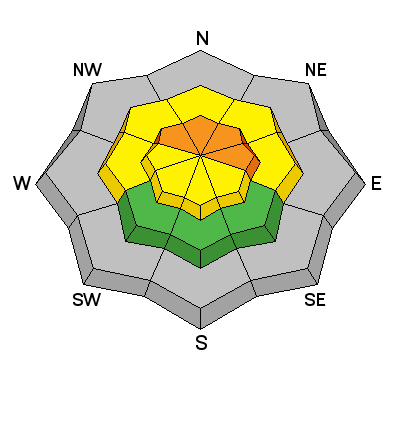 Rose: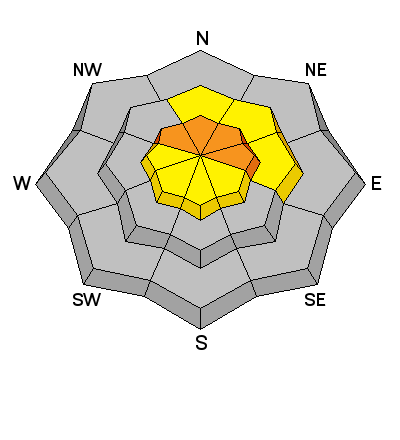 Rose: