Description:
  Human triggered avalanches and cornice falls are possible in drifted upper elevation terrain.  
Watch for and avoid drifted snow in and around terrain features like cliff bands, gullies, scoops, and sub-ridges.
Wind slabs will be found on the lee side of major ridges, on slopes below cornices, in saddles, and downwind of open fetch areas.
Avoid ridge-top cornices, which often break further back than expected and can trigger avalanches on drifted slopes below. 
In some cases thick drifts formed on slopes with poor snow structure, and some wind slab avalanches could step down to buried weak faceted layers.
Special Announcement:
Episode 6 of the UAC podcast "A Conversation with Tom Kimbrough, Hemingway of the Wasatch" is live. We explore ideas about lifetime exposure to risk and what role Buddhism has played in his life as a climber, skier, and soon-to-be octogenarian. We talk about what has changed over the years in snow science and the role of mentorship in the world of avalanche forecasting and other professions and pursuits. Check it out on ITunes, Stitcher, the UAC blog.
Current Conditions:
The weekend storm mostly passed by the Central Bear River Range, but 6 inches fell Sunday at the Tony Grove Snotel. The storm favored the front canyons, with over foot of powder reported yesterday from Logan Dry Canyon and closer to 2 feet of fresh snow up in Providence Canyon. Excellent powder conditions are found in these areas. Heightened avalanche conditions exist in drifted upper elevation terrain. The powder on sunny slopes will likely become moist, and loose wet activity or wet sluffs will become increasingly likely.
The Tony Grove Snotel at 8400' reports about 6" of new snow over the weekend, with .6" SWE, and a couple more inches yesterday. It's 14°F, and there's 78 inches of total snow, with 88% of normal snow water equivalent.
It's 7°F at the UDOT Hwy 89 Logan Summit this morning, and a northeast wind is lightly blowing 3 to 5 mph.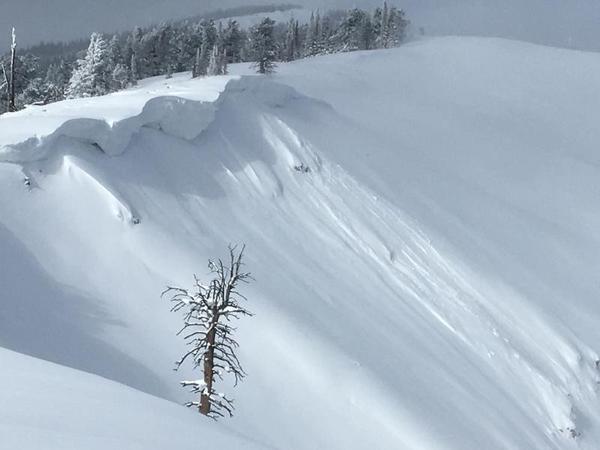 Drifting over the weekend built out large cornices on the major ridges. You should avoid these as they can break further back than expected.
Recent Activity:
We observed only minor natural cornice falls, very shallow soft slabs, and loose dry avalanches up in Providence Canyon Sunday and yesterday.
We received reports of a few larger avalanches last week.
A natural wind slab avalanche was observed on Saturday in DB Bowl in Logan Dry Canyon. The 2' deep slab avalanche was quite wide, (~700') but it stopped short in the trees after running about 150 vrt'.

A natural avalanche observed Wednesday morning, 2 to 3' deep and around 250' wide persistent (wind) slab, running 600 vrt'', on the east face of Magog in Tony Grove Area, likely triggered by cornice fall overnight.

Unintentional snow-bike triggered avalanche, 2 to 3' deep and around 200' wide, East facing slope, 8500' elevation, in Copenhagen Basin, near Emigration Summit in SE Idaho.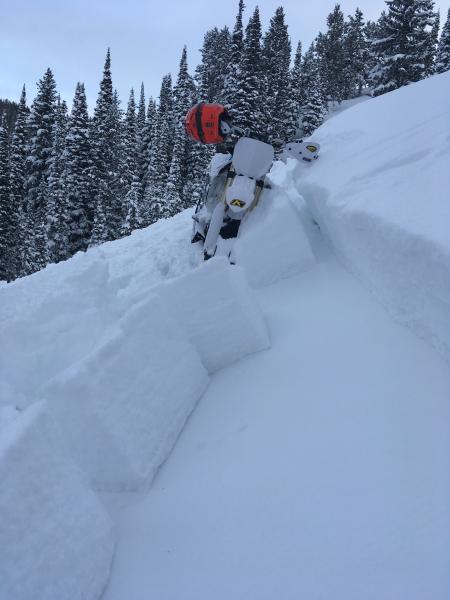 Mountain Weather:
High pressure will provide warmer and tranquil conditions for much of the week.
Today: Mostly sunny, with a high near 25. Wind chill values as low as -5. West southwest wind 7 to 13 mph.
Tonight: Mostly clear, with a low around 13. West wind 7 to 9 mph.
Wednesday: Sunny, with a high near 32. Southwest wind around 9 mph.
Bottom Line:
The danger is MODERATE and heightened avalanche conditions exist in drifted terrain. Human triggered cornice falls, wind slab avalanches, and dangerous persistent slab avalanches are possible. Solar warming will cause an increasing danger of loose wet avalanches on sunny slopes.
Evaluate snow and terrain carefully.
Avoid and stay out from under big cornices, steep drifted terrain, and sunny slopes with saturated surface snow.
Description:
Heightened persistent slab avalanche conditions exist, especially on slopes with shallow overall snow cover. We've found shallow snow and poor snow structure recently in shady, mid-elevation, forested, and windward terrain, with particularly eye-opening test results on west and north facing slopes. If you sink deeply into loose sugary snow, you've found poor snow structure, but in many areas you have to dig a snowpit to know.
Avoid steep rocky slopes with shallow snow cover and poor snow structure.
Persistent slab avalanches might be remote triggered, from a distance or below.
Cracking and collapsing or whumpfing are red flags indicating unstable snow.
Description:
Strong solar warming will cause increasing danger of loose wet avalanches, entraining the fresh snow. These can get pretty big on sustained slopes.
Roller balls, pinwheels, and natural sluffs indicate possible loose wet activity
It's time to move off slopes if you are sinking into slushy or sticky snow
General Announcements:
We have discount lift tickets for Alta, Snowbird, Brighton, Solitude, Snowbasin,and Beaver Mountain. Details and order information here. All proceeds from your purchase go towards paying for avalanche forecasting and education.
Episode 5 of the UAC podcast To Hell in a Heartbeat - A Conversation With Tom Diegel and Matt Clevenger About the 12.26.08 Full Burial on Little Water is live. This podcast talks with Matt and Tom about their experience and the massive success of the To Hell in a Heartbeat video which has been viewed almost 3M times. Check it out on ITunes, Stitcher, the UAC blog, or wherever you get your podcasts.
The UAC Marketplace is online. The  holiday auction is closed, but our online marketplace still has deals on skis, packs, airbag packs, beacons, snowshoes, soft goods and much more.
The UAC has new support programs with Outdoor Research and Darn Tough. Support the UAC through your daily shopping. When you shop at Smith's, or online at Outdoor Research, REI, Backcountry.com, Darn Tough, Patagonia, NRS, Amazon, eBay  a portion of your purchase will be donated to the FUAC. See our Donate Page for more details on how you can support the UAC when you shop.
Benefit the Utah Avalanche Center when you buy or sell on eBay - set the Utah Avalanche Center as a favorite non-profit in your eBay account here and click on eBay gives when you buy or sell. You can choose to have your seller fees donated to the UAC, which doesn't cost you a penny Check it out on ITunes, Stitcher, the UAC blog, or wherever you get your podcasts.
Now is a great time to practice companion rescue techniques with your backcountry partners.  Here's our rescue practice video.
 EMAIL ADVISORY: If you would like to get the daily advisory by email you will need to subscribe here.
Remember your information can save lives. If you see anything we should know about, please help us out by submitting snow and avalanche observations. You can also call us at 801-524-5304, email by clicking HERE, or include #utavy in your Instagram.
This advisory is from the U.S.D.A. Forest Service, which is solely responsible for its content. This advisory describes general avalanche conditions and local variations always occur.
Rose: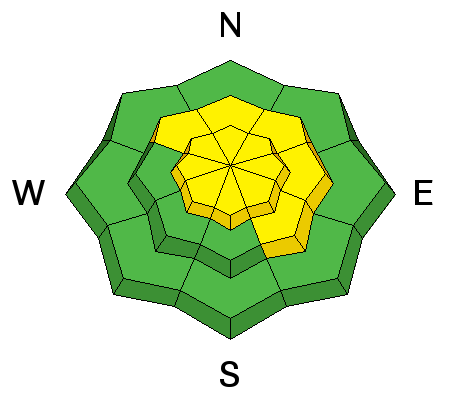 Rose: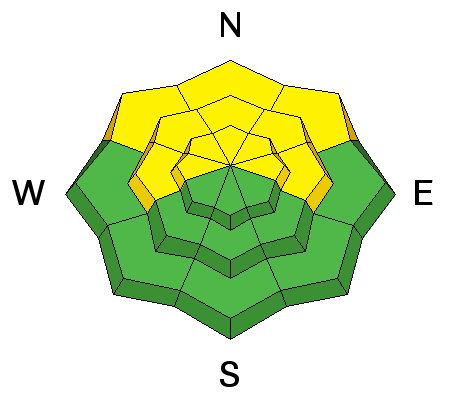 Rose: