Description:
The snow is stable in most areas and human triggered avalanches are unlikely. Even so, warm temperatures and periods of sun could cause an increase in wet avalanche danger, and shallow wind slab avalanches and cornice falls are possible in drifted upper elevation terrain. Widespread buried faceted layers appear dormant now, and persistent slab avalanches are unlikely, but if you trigger one it could be dangerous.
If the snow becomes soft and saturated, it's time to move off and out from under steep slopes.
Avoid drifted snow on steep slopes and in and around terrain features like sub-ridges, gullies, scoops, and rock outcrops.
Avoid travel on or under large ridge top cornices, which might break further back than expected and could trigger wind slab avalanches on drifted slopes below.
Although unlikely, persistent slab avalanches remain possible in isolated steep terrain. Outlying shady slopes with shallow and weak snow are the most suspect. Continue to avoid very steep rocky slopes with shallow snow and poor snow structure.
Special Announcement:
We have discount lift tickets for Alta, Snowbird, Brighton, Solitude, Snowbasin,and Beaver Mountain. Details and order information here. All proceeds from these go towards paying for avalanche forecasting and education!
Current Conditions:
The Tony Grove Snotel at 8400' reports 33°F, and there's 55 inches of total snow at the site containing 88% of normal SWE (or Snow Water Equivalent). It's 36°F at the UDOT Hwy 89 Logan Summit sheds, and a west-northwest wind is blowing 18 mph and gusting around 30 mph this morning. Unseasonably warm temperatures and rain in the last week have really done a number on our low elevation snow. Many slopes have burned off, and trails turned to mud and ice. Nice fast and smooth graupel and shallow powder riding conditions exist at upper elevations, but the shallowly buried rain crusts are a bit catchy and can throw you around a bit.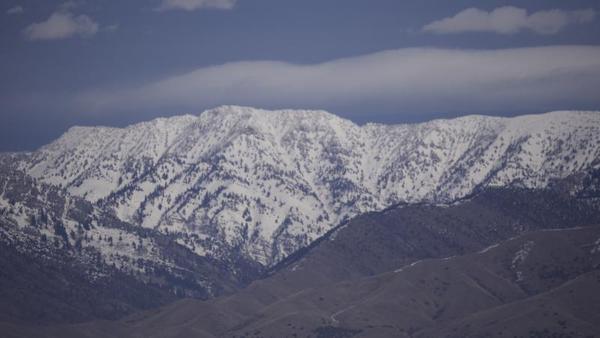 Not much snow on lower elevation slopes in the Bear River Range after recent warmth and rain. At least there's still some up higher. Naomi Peak as viewed from Cache Valley, 2/8/18
Recent Activity:
Other than some natural cornice fall and wind slab activity last week at upper elevations, no avalanches were reported recently in the Logan Zone.
Mountain Weather:
A dry and mild northwest flow aloft will continue across the Great Basin today. A disturbance in the northwest flow will cross the area Saturday.
Today: Mostly sunny, with a high near 34. Breezy, with a west wind 20 to 28 mph, with gusts as high as 41 mph.
Tonight: Mostly cloudy, with a low around 16. West wind 11 to 18 mph.
Saturday: A 40 percent chance of snow showers. Mostly cloudy, then gradually becoming sunny, with a steady temperature around 19. North northwest wind 11 to 17 mph. New snow accumulation of less than one inch possible.
Bottom Line:
The snow is stable in most areas and avalanches are unlikely. Remember, LOW danger doesn't mean No danger, and you might trigger cornice falls and/or shallow wind slab avalanches on drifted slopes at upper elevations. Also, avalanches stepping into old snow remain possible in isolated steep terrain with poor snow structure.
Use normal caution, but also a heightened degree of situational awareness.
Continue to practice good communication and backcountry travel protocols.
General Announcements:
The latest UAC podcast - "Recreating Like a Pro - A Conversation with IFMGA guide Anna Keeling" is live. This podcast will be ideal for anyone looking to pick up some tips and tricks from a professional mountain guide for recreating in the winter backcountry environment.​
The UAC Marketplace is online. The  holiday auction is closed, but our online marketplace still has deals on skis, packs, airbag packs, beacons, snowshoes, soft goods and much more.
The UAC has new support programs with Outdoor Research and Darn Tough. Support the UAC through your daily shopping. When you shop at Smith's, or online at Outdoor Research, REI, Backcountry.com, Darn Tough, Patagonia, NRS, Amazon, eBay  a portion of your purchase will be donated to the FUAC. See our Donate Page for more details on how you can support the UAC when you shop.
Benefit the Utah Avalanche Center when you buy or sell on eBay - set the Utah Avalanche Center as a favorite non-profit in your eBay account here and click on eBay gives when you buy or sell. You can choose to have your seller fees donated to the UAC, which doesn't cost you a penny Check it out on ITunes, Stitcher, the UAC blog, or wherever you get your podcasts.
Now is a great time to practice companion rescue techniques with your backcountry partners.  Here's our rescue practice video.
 EMAIL ADVISORY: If you would like to get the daily advisory by email you will need to subscribe here.
Remember your information can save lives. If you see anything we should know about, please help us out by submitting snow and avalanche observations. You can also call us at 801-524-5304, email by clicking HERE, or include #utavy in your tweet or Instagram.
This advisory is from the U.S.D.A. Forest Service, which is solely responsible for its content. This advisory describes general avalanche conditions and local variations always occur.