Description:
Persistent slab avalanches are possible on steep slopes with poor snow structure. I found inconsistent test results and increased stability yesterday in the Tony Grove Area. But poor snow structure exists on many slopes, and with cold clear nights, the snow on the ground continues to become faceted and weak, especially on shady north facing slopes.
Pay attention to possible signs of instability like cracking and whumpfing or collapsing. But remember these signs are not always present when conditions are dangerous, and you have to dig into the snow to confirm poor snow structure.
Although becoming less likely, avalanches still might be triggered remotely, from a distance, or worse, from below.
Avoid drifted snow in steep terrain near ridges and in and around terrain features like gullies, saddles, rock bands, scoops, and sub-ridges.
A ride in even a small avalanche could be particularly dangerous now due shallow snow and the potential for being dragged through rocks, trees, or deadfall below.
Current Conditions:
 The Tony Grove Snotel at 8400' reports 32°F and 41 inches of total snow containing 98% of normal SWE (Snow Water Equivalent).   It's 33°F at the 9700' CSI Logan Peak weather station, and 6°F at UDOT Hwy 89 Logan Summit, with very light east wind. The snow continues to stabilize, and no new avalanches were reported in the new year. 
The Tony Grove Road is not maintained for wheeled travel in the winter.
Shallow snow conditions exist, and I've seen several badly damaged sleds in the past week. Travel cautiously and keep your speed down.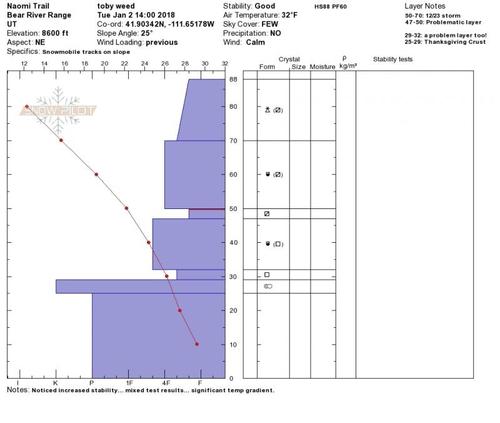 Recent Activity:
No new avalanches were reported from the backcountry in the new year.
On 12/26/17, a very lucky 20-year-old rider was rescued by his party after being caught, carried, mostly buried, and pinned against a tree in Boss Canyon near the Idaho State Line in the Franklin Basin Area. View the Report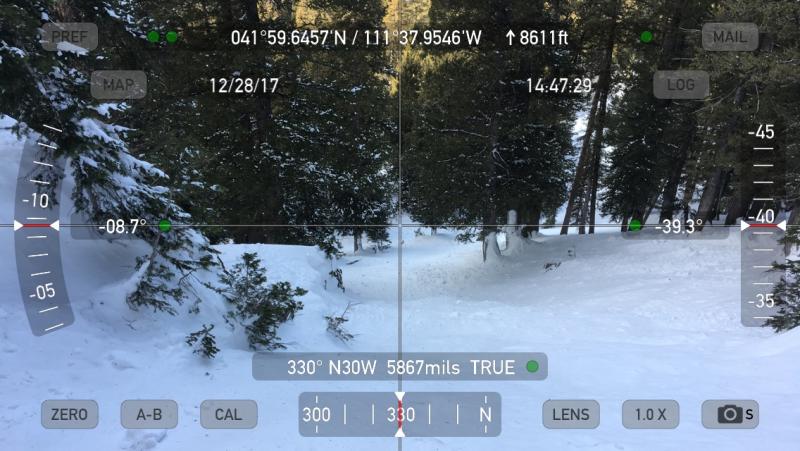 Here's a view looking down the Boss Canyon avalanche. The avalanche was on a very steep north facing slope in deep timber.
Mountain Weather:
A ridge across the region will persist through Friday. A gradual flattening of the ridge is expected this weekend with a possible storm for the Great Basin Saturday. The ridge is then expected to rebuild early next week. Today: Mostly sunny, with a high near 39. West southwest wind 8 to 10 mph. Tonight: Partly cloudy, with a low around 23. West southwest wind 3 to 7 mph. Thursday: Mostly sunny, with a high near 40. Light west southwest wind
Bottom Line:
Snow in the backcountry is gradually stabilizing, but heightened avalanche conditions persist in many areas. Dangerous human triggered avalanches are becoming less likely, but remain possible on steep slopes with poor snow structure.
Evaluate snow and terrain carefully.
I will update this advisory on Friday 1/5/18
General Announcements:
We're excited to introduce for the 2017/2018 winter the Utah Avalanche Center podcast, hosted by forecaster Drew Hardesty and produced by KUER's Benjamin Bombard. The podcast will include engaging stories, interviews, and lessons learned - all things avalanche to help keep people on top of the  snow instead of buried beneath it - and easily found on ITunes, Stitcher, the UAC blog, or wherever you get your podcasts.
Discount lift tickets for Alta, Snowbird, Brighton, Solitude, Deer Valley, Snowbasin, and Beaver Mountain are now available, donated by the resorts to benefit the Utah Avalanche Center.     Details and order information here. All proceeds go towards paying for avalanche forecasting and education!
Now is a great time to practice companion rescue techniques with your backcountry partners.  Here's our rescue practice video.
  Go HERE for a list of UAC classes.
EMAIL ADVISORY: If you would like to get the daily advisory by email you will need to subscribe here.
Benefit the Utah Avalanche Center when you shop from Backcountry.com or REI: Click this link for Backcountry.com or this link to REI, shop, and they will donate a percent of your purchase price to the UAC. Both offer free shipping (with some conditions) so this costs you nothing!
Benefit the Utah Avalanche Center when you buy or sell on ebay - set the Utah Avalanche Center as a favorite non-profit in your ebay account here and click on ebay gives when you buy or sell. You can choose to have your seller fees donated to the UAC, which doesn't cost you a penny.
Remember your information can save lives. If you see anything we should know about, please help us out by submitting snow and avalanche observations. You can also call us at 801-524-5304, email by clicking HERE, or include #utavy in your tweet or Instagram.
This advisory is from the U.S.D.A. Forest Service, which is solely responsible for its content. This advisory describes general avalanche conditions and local variations always occur.
Date:
Wednesday, January 3, 2018
Rose: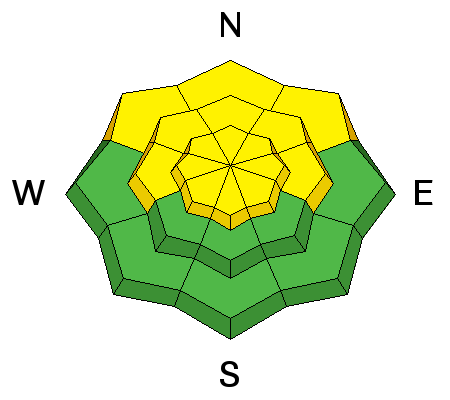 Rose: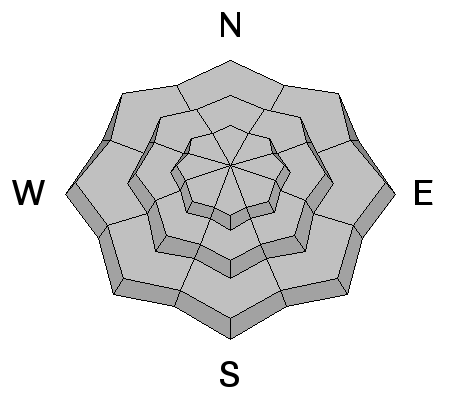 Rose: