Description:
Hard wind drifts are scattered across the landscape and are best described as stubborn. They do have a nasty habit of breaking well above you as you travel from down across the taper of the tear-drop shape of wind drift. Listen for low collapsing or drum-like sounds but these - nor cracking - may be evident.
Special Announcement:
Thanks to Drew Hardesty for coming down from the Wasatch to cover our part of the world. We've been on exchange for the past week and I appreciated his perspective on things down here.
If anything needs my attention or if there are pertinent snow, weather, or avalanche observations, please submit an observation or email or call me directly: drew@utahavalanchecenter.org or 801.842.8519. Thanks -
Episode 6 of the UAC podcast "A Conversation with Tom Kimbrough" is live. We explore ideas about lifetime exposure to risk and what role Buddhism has played in his life as a climber, skier, and soon-to-be octogenarian. We talk about what has changed over the years in snow science and the role of mentorship in the world of avalanche forecasting and other professions and pursuits. Check it out on ITunes, Stitcher, the UAC blog.
The UAC Marketplace is still open. Our online marketplace still has deals on skis, packs, airbag packs, beacons, snowshoes, soft goods and much more.
INSTAGRAM! We now have a UAC-Moab Instagram page. You can find it here....but better yet follow us on your smartphone. Confused? Ask a teenager.
Current Conditions:
2" fell in the Abajos on Sunday. Kevin Dressel went up on Monday and gave us this great report. Conditions remain thin, and exposed slopes are sun crusted and wind scoured, but things have vastly improved over the past month. Overall snow depths range from a 1'-3'.
Wind, temperature and humidity on Abajo Peak (11,000')
Snow totals at Buckboard Flat (8924')
Snow totals at Camp Jackson (8858')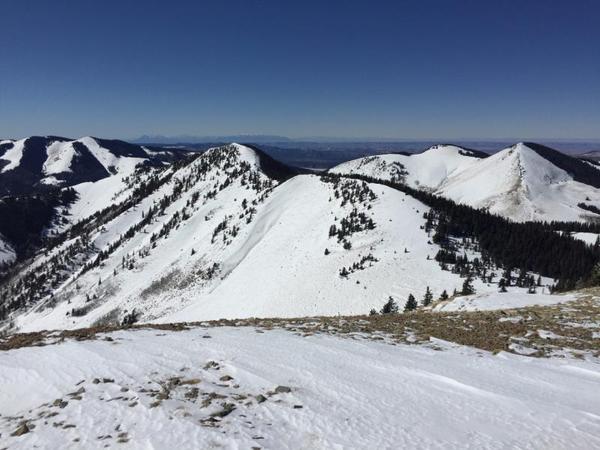 Still beautiful up there! Kevin Dressel photo.
Recent Activity:
None.
Your information to us helps to save lives. Reports of avalanches, cracking, collapsing or any other information makes a difference. It's easy to do, even from your smartphone. Thanks -
Mountain Weather:
Frontal passage is due this morning with 2-4" expected in the mountains. Temperatures at 10,000' may drop as low as the low teens overnight but slowly start to rebound over the course of the week. Winds will remain gusty with the wind shift from south to west to northwest, with gusts along the ridgelines into the 40s. Skies should start to clear overnight with high pressure moving in for the week. Another storm perhaps on tap for next weekend.

Bottom Line:
Many areas have LOW avalanche danger. Areas of MODERATE danger exist in localized terrain for triggering an avalanche 1-2' deep. Most likely areas for triggering an avalanche are on heavily wind loaded slopes facing west to north to east at the mid and upper elevations. The best and safest conditions exist on low angle shady sheltered slopes with no overhead hazard.
Description:
Avalanches stepping into old early season snow 1-2' deep remains far and away the most significant and un-survivable avalanche problem. The poor structure has gone mostly dormant in the past week, but additional stress of wind loading is rarely a good thing. For now, I'd put this firmly in the Low Probability - High Consequence regime. Potential triggers include cornice fall, people or snowmobiles "catching air" and landing hard in the starting zone...or just finding a thin weak spot on the slope. Even though no avalanches, cracking or collapsing is present...and snow tests show a fairly dormant structure, it's enough to keep a conservative approach. With benign weather later this week, this problem may become completely dormant.
General Announcements:
The UAC has new support programs with Outdoor Research and Darn Tough. Support the UAC through your daily shopping. When you shop at Smith's, or online at Outdoor Research, REI, Backcountry.com, Darn Tough, Patagonia, NRS, Amazon, eBay a portion of your purchase will be donated to the FUAC. See our Donate Page for more details on how you can support the UAC when you shop.
Benefit the Utah Avalanche Center when you buy or sell on eBay - set the Utah Avalanche Center as a favorite non-profit in your eBay account here and click on eBay gives when you buy or sell. You can choose to have your seller fees donated to the UAC, which doesn't cost you a penny
This information does not apply to developed ski areas or highways where avalanche control is normally done. This advisory is from the U.S.D.A. Forest Service, which is solely responsible for its content. This advisory describes general avalanche conditions and local variations always occur.
Rose: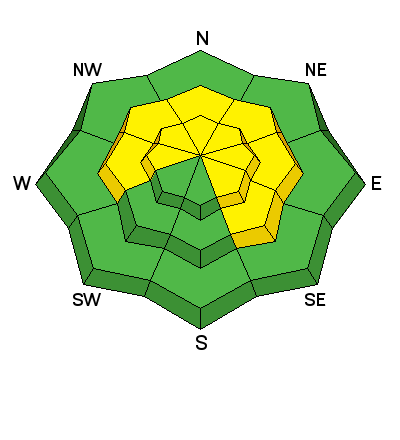 Rose: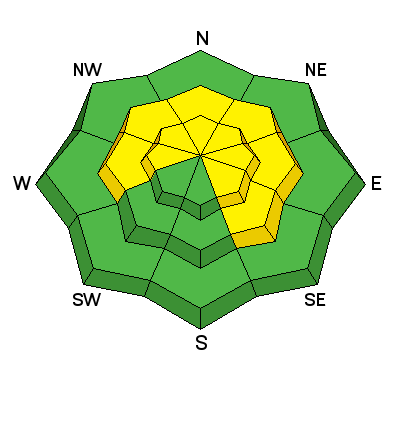 Rose: