Description:
Though isolated, a persistent slab danger still exists on steep, NW-N-E facing slopes above about 10,500 feet where more than about 16" of snow can be found on top of weak, sugary, faceted snow at the ground. Kevin Dressler was out over the weekend and reported collapsing and cracking in the snowpack in these areas - telltale signs of unstable snow.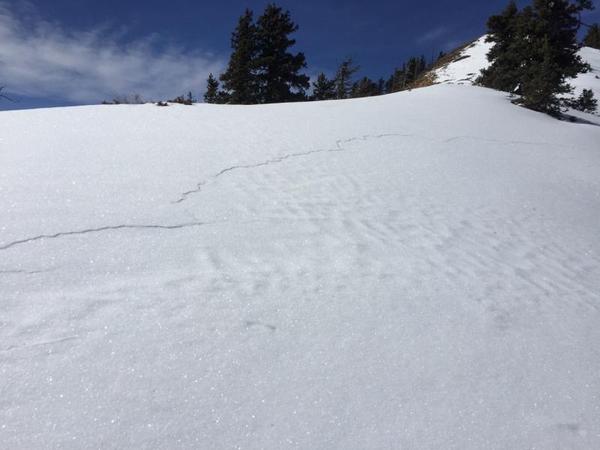 Kevin Dressler photo.
Current Conditions:
Buckboard Flat is reporting 3" of new snow this morning and I would expect 5" or more up high. Not enough to turn winter around but every little but helps. Winds on Abajo Peak are averaging 20-25 mph from the WNW and it's 14 degrees up there.
Kevin Dressel was out and about on Saturday and reported his findings here.
Wind, temperature and humidity on Abajo Peak (11,000')
Snow totals at Buckboard Flat (8924')
Snow totals at Camp Jackson (8858')
Mountain Weather:

Bottom Line:
There is an isolated or MODERATE avalanche danger on steep, upper elevation northerly facing slopes where more than about a foot of snow can be found overlying weak, sugary snow on the ground. Also be on the lookout for shallow, recently deposited wind slabs in upper elevation, wind exposed terrain. Elsewhere the avalanche danger is generally LOW.
Description:
Today you may find some shallow new wind slabs on the lee sides of ridge crests and terrain features in upper elevation, wind exposed terrain. They shouldn't pose too much of a threat, but it's always good to heighten your awareness when these things are present. Look for recently deposited wind drifts and cracking in the snow surface.
General Announcements:
The UAC has new support programs with Outdoor Research and Darn Tough. Support the UAC through your daily shopping. When you shop at Smith's, or online at Outdoor Research, REI, Backcountry.com, Darn Tough, Patagonia, NRS, Amazon, eBay a portion of your purchase will be donated to the FUAC. See our Donate Page for more details on how you can support the UAC when you shop.
Benefit the Utah Avalanche Center when you buy or sell on eBay - set the Utah Avalanche Center as a favorite non-profit in your eBay account here and click on eBay gives when you buy or sell. You can choose to have your seller fees donated to the UAC, which doesn't cost you a penny
This information does not apply to developed ski areas or highways where avalanche control is normally done. This advisory is from the U.S.D.A. Forest Service, which is solely responsible for its content. This advisory describes general avalanche conditions and local variations always occur.